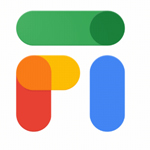 Google has rebranded its mobile service and expanded the number of devices that will work with the offering. Previously known as Project Fi, the service is now called Google Fi.
Launched in April 2015 and initially supported by just a single device, the offering now works with "the majority of Android devices and iPhones," Google said in a blog post.
As a blog post from tech website The Verge explains, however, there are some caveats. Getting the iPhone to work with Google Fi requires downloading a special app and changing several settings, and some iPhone capabilities may not work perfectly, the author explains. In addition, the post notes that Google's unique capability to dynamically switch between Wi-Fi or three different cellular networks depending on which provides the best service quality doesn't work with some phones. Instead, users of those phones will be dependent on the T-Mobile network, according to another The Verge post.
Google doesn't operate its own cellular network, but instead relies on a broad array of public Wi-Fi hotspots and on mobile virtual network operator (MVNO) agreements with Sprint, T-Mobile and U.S. Cellular.
Despite these limitations, though, the expanded device lineup and new name suggest Google views its mobile offering as more than just a limited experiment. At the time the service was launched, some people speculated that Google's primary goal might be to spur the broader wireless industry to make changes, and that may still be a goal — but these latest developments suggest that the company's ambitions are broader.
Google Fi
Google's mobile offering launched with just a single phone option – the Nexus 6 phablet. But since then Google has added support for the Pixel, Moto G6 and some other models that, like the Nexus 6, include special hardware and software to support the network switching capability.
"If you're looking for the full Google Fi experience, including Fi's unique technology to seamlessly switch between multiple cellular networks, you can use a phone designed for Fi," Google notes in this week's blog post announcing the new devices and branding.
One of the most appealing aspects of Google Fi for certain consumers is its price model. Customers pay $20 a month for service plus $10 a month for every gigabyte of data they use, capped at $60 a month for essentially unlimited service.