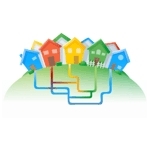 Plans continue to trickle out for the Google Fiber network,  which is currently under construction in the Kansas Cities. The latest tidbit of info is a new Google Fiber IP set-top-box, the GFHD100, which showed up at the FCC (first reported by Engadget).
The new box, manufactured by Humax, sports a Google Fiber nameplate, and features typical interfaces of WiFi, an Ethernet/Coax bridge, USB, Ethernet, and an HDMI port. The set-top-box discovery adds fuel to the speculation that Google will launch an IPTV service over their 1 Gbps FTTH network. We recently speculated about the middleware that will be ported to this IPTV STB.
Google will not reveal any details of the services that will run across this FTTH network. But the evidence is pretty clear. They have built an IPTV capable headend in Council Bluffs, IA, which is in geographic proximity to the Kansas Cities. They have applied for (and received some) regulatory authority to provide TV services.
Now they are gaining FCC approval to use an IP STB. It's a safe bet (but a bet nevertheless) that IPTV will be offered. What variety of IPTV – a modified version of the existing Google TV platform or something entirely different – is still up for debate. Stay tuned.