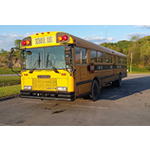 Google is bringing Wi-Fi to school busses in rural areas where students have long commutes and may lack internet connectivity at home. The company initially tried what it calls the "rolling study hall" concept in two school districts with strong results and is now expanding the Google Wi-Fi school bus concept to 16 additional school districts in partnership with school networking nonprofit CoSN and broadband educational specialist Kajeet.
The idea makes a lot of sense in rural areas where students have long bus rides to and from school – sometimes as long as 90 minutes in each direction.
Google Wi-Fi School Bus
When the first Google Wi-Fi school bus was equipped in 2016 to serve rural North Carolina, "the effects were immediate," wrote Lilyn Hester, Google head of external affairs for the southeast U.S., in a blog post.
"Students were engaged. They were learning. And after a few months, there were more real results: School officials saw students do better in school. It was working," Hester continued.
According to a Web page about the rolling study halls, the three partners are providing "mobile Wi-Fi routers, data plans, and devices" to support the initiative. Importantly, the partners also provide on-board educators who ride with the students and are available to answer questions from them.
A video accompanying Hester's blog post includes an interview with a student who describes the benefits of the rolling study hall.
[embedyt] https://www.youtube.com/watch?v=SfDQ2oH2ZlM[/embedyt]
"I'm able to get most of my homework done before I even set foot in the door," explained the girl, who has a one-hour commute each way to school.
She credited the rolling school bus for helping her go from being a C-student to an A-student.
The rolling study hall is the latest in a range of Google 'do-gooder' initiatives, which also have included providing cellular connectivity via balloons after a hurricane wiped out cell service to most of Puerto Rico and providing free internet connectivity to housing projects in Kansas City, where the company installed a fiber-to-the-home network that supports speeds up to 1 Gbps.
Image courtesy of flickr user Jordan.