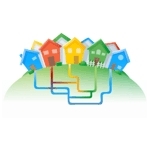 Google's news regarding their Kansas City FTTP project trickles out from time to time. The latest news from the project comes courtesy of the Google Fiber blog which reveals engineering and planning work is underway for the Google fiber project.
"If you're in Kansas City in the next few weeks, you may notice a few engineers walking around, consulting maps and surveying your street or neighborhood. These engineers are kicking off the next phase of Google Fiber—detail engineering," reports Kevin Lo, General Manager, Google Access.
Google has its work cut out for it if they plan on meeting their timeline of service from the 1 Gbps FTTP network by 2012. Given the current timeline, they may have a customer or two (hundred) lit up on the network by 2012, but it will be far from complete in 2012. Actual construction is set to begin in the fourth quarter of 2011.
Google originally selected Kansas City, Kansas for the ambitious (and very desirable) FTTP experiment. They later added the larger Missouri side of Kansas City to the mix. The Kansas portion of the network build will begin first, followed by the Missouri version.
More interesting details about the project like pricing and applications have yet to be revealed.