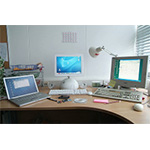 Shipments of personal computing devices — traditional PCs, tablets, and workstations, will fall 3.9 percent this year, according to a global PC device shipments forecast from International Data Corporation (IDC).
In its newest report, the research firm said that the decline will continue, though at a slower rate through 2022, with the compound annual decline at 1.5%.  Even with the decline in units shipped, the dollar value of those shipments is expected to grow 3.6% this year thanks to the growth in more expensive 2-in-1s (detachable tablets and convertible notebooks), ultraslim notebooks and even high-end desktops, particularly ones used for gaming.
More specifically, IDC expects desktop PCs to decline 2.7% annually over the next five years, due primarily to longer refresh cycles and saturation in the commercial markets. The research firm expects slate tablets, along with traditional notebooks and mobile workstations to decline as well, experiencing five-year annual declines of 5.3% and 9.1%, respectively.
"Although average time spent on a PC has declined substantially in the past few years, the need for better designs and greater performance has continued to grow," said IDC senior research analyst Jitesh Ubrani, in a prepared statement. "The market for gaming PCs provides a much needed uplift in the short term and beyond that, we still anticipate the need for performance-oriented machines that cater to designers, AR/VR related tasks, and even to creators that are part of the YouTube generation."
Ultraslim notebooks and 2-in-1 devices will have five-year CAGRs of 7.8% and 9.3%, according to the IDC global PC device shipments forecast.
"While the ramp up of convertibles and detachables has been more crawl than run, the category, on the whole, continues to build momentum," said Linn Huang, IDC research director, in a prepared statement. "Strong form factor appeal, the continued growth of gaming, and even the ascent of Chromebook as a consumer device in North America will all play an important role in bolstering the critical holiday season that is looming."
Image courtesy of flickr user Gianni.