The top seven Ethernet service providers in Vertical Systems Group's 2017 Global Ethernet Leaderboard are (in order) Orange Business Services (France), AT&T (U.S.), Colt (U.K.), CenturyLink (U.S.), BT Global Services (U.K.), Verizon (U.S.) and NTT (Japan). The Leaderboard tracks providers with a 4% or more share of the market of billable retail port sales among companies operating outside of their home countries.
"With very slim margins separating the leading global service providers, Orange remains in first position, AT&T advances to second, and CenturyLink makes its debut," Rick Malone, principal at Vertical Systems Group said in a press release. "To serve this specialized global market, key providers are increasing deployments of higher speed Ethernet connectivity to MPLS, VPLS and cloud services, while transitioning customers to more dynamic, advanced SDN-based hybrid WAN and SD-WAN offerings."
Ethernet Service Providers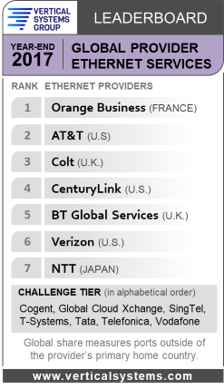 The Challenge Tier of Global Providers consists of companies with shares of non-domestic markets of between 2% and 4%. Seven companies qualify for the year-end 2017 list. They are, in alphabetical order, Cogent (U.S.), Global Cloud Xchange (India), SingTel (Singapore), T-Systems (Germany), Tata Communications (India), Telefonica Worldwide (Spain) and Vodafone (U.K.). Global Cloud Xchange moved up from the Market Player tier.
About 40 companies are in the Market Player tier, which consists of companies that hold port shares of less than 2 percent.
VSG also noted that the Global provider Leaderboard companies that have received MEF CE 2.0 certification are AT&T, Colt, CenturyLink and Verizon. Challenge tier companies attaining the distinction are SingTel, T-Systems, Tata, Telefonica and Vodafone. This certification is considered an important market differentiator.
Last month, VSG announced that CenturyLink, AT&T, Verizon, Spectrum Enterprise, Comcast, Windstream and Cox were, in that order, the top finishers in the U.S. Ethernet Leaderboard last year. The results are noteworthy because it was the first time since 2005 that AT&T did not finish as the leading provider.
Image courtesy of flickr user Yuri Samoilov.