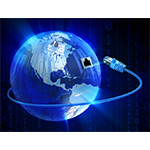 Fiber and fixed wireless broadband technologies are gaining at the expense of copper technologies worldwide, according to a new global broadband market report from Point Topic.
Point Topic found that the number of copper lines used for fixed broadband fell by 6.6% between Q2 2018 and Q2 2019. Over the same period, FTTH and FTTx/VDSL rose by 18.6% and 7.1%, respectively. The firm also found strong growth in wireless (mostly fixed wireless) of 26%.
North America was responsible for 4.04% of fixed broadband subscriber net additions worldwide in the second quarter of the year, according to the researchers. The growth puts North America more or less in the middle of the regional pack in terms of global broadband net adds: East Asia was responsible for more than 63% while, at the other end of the spectrum, Oceania only is credited with .06%.
North America had an 11.75% global broadband market share. That's far less than east Asia's 46.47% but greater than Oceania's 1%.
Worldwide, it was a positive quarter for fixed broadband though percentage and overall growth both are slowing. The quarter ended with 1,083,566,405 worldwide subscribers, which represented net additions of 17,992,476 or 1.69 percent. By comparison, the first quarter numbers revealed a total of 1,065,573,929 subscribers, which represented net additions of 21,704,389 or 2.08%.
Clearly, the category was most supported in Asia. "More than 63 per cent of all net additions in fixed broadband subscribers came from East Asia, which also retained the largest regional market share of all subscribers at 47 per cent," according to Point Topic. "Compared to Q1 2019, market shares across all regions changed by less than a percentage point, except for Asia Other whose market share increased by 1.4 percent."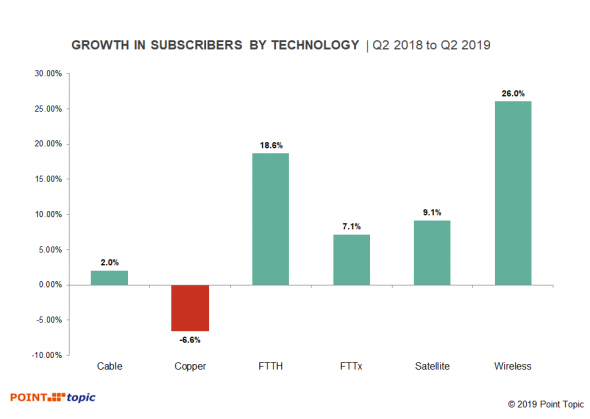 A region's broadband growth potential is dependent, in part, on penetration rates. North America has a relatively high penetration rate of 34.3% but a quarterly growth rate of just .57%, while Africa, which has a penetration rate of less than 4% saw quarterly growth of 2.5%. An interesting exception was East Asia, which has a relatively high 31.3% penetration rate but nevertheless saw 2.3% growth in the quarter.
In May 2018, Point Topic said that 77% of fixed subscribers worldwide were served by fiber, copper and cable networks. The figure was 87% in the United States.