A good idea for small carriers pursuing gigabit networks comes from 11 carriers in South Carolina. The carriers, who already work together on the Spirit Communications statewide fiber network, have undertaken a new initiative dubbed GigUP South Carolina that aims to spur economic development through gigabit network deployment.
"Spirit Communications, with its 11 member-owners, has enabled South Carolina leaders to easily promote the state as a Gigabit State," observes Spirit Communications on a website devoted to the GigUP South Carolina initiative. "This claim can be made due to a robust fiber network providing gigabit capable connectivity throughout the state to anywhere in the world." And the ability to make that claim is a great tool for recruiting businesses to locate operations in the state or to expand existing operations there, the website notes.
An impressive 60% of South Carolina residents and 80% of businesses in the state have gigabit service available to them, according to the Spirit Communications GigUP web page.
Those are important numbers for other small telcos to consider as they pursue gigabit networks. Rather than touting just your own capabilities, wouldn't it be a good idea to see what other carriers in your state or your part of the state are doing and consider banding together to determine the combined achievements you could highlight?
GigUP South Carolina
The GigUP South Carolina website also has some useful end-user tools that other telco consortia might consider implementing, such as an interactive map of the state that allows interested parties to click on a county to see which carrier or carriers offer gigabit service in that county. The majority of South Carolina counties have gigabit and among those that don't, gigabit is coming soon, the map shows.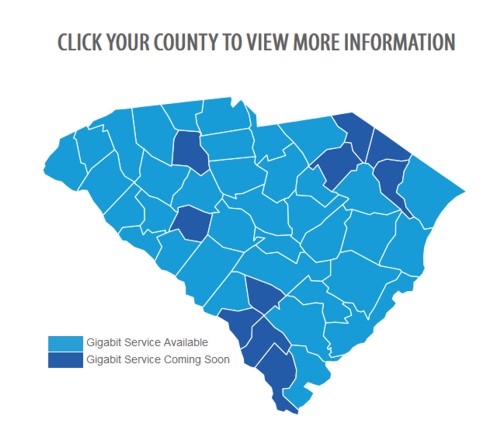 Other important GigUP South Carolina achievements highlighted on the GigUP website:
Over 1,100 South Carolina schools have fiber on premises
Over 1,500 South Carolina government agency locations have fiber available to them
Over 200,000 South Carolina homes have fiber passing their front doors
Over 60,000 businesses have fiber passing their premises
Over 1 million miles of fiber run through South Carolina
A list of the 11 telco members comprising Spirit Communications can be found at this link.