The most popular U.S. broadband service tiers provide service at between 100 Mbps and 999 Mbps, according to new gigabit adoption research from Parks Associates. More than one in five households (22%) take service at speeds in that range, in comparison with only 6% that take service at gigabit speeds, according to the new gigabit adoption research.
Researchers also found that 39% of subscribers don't know their broadband speed.
Interest in gigabit speeds actually has declined, according to Parks. Parks Senior Research Analyst Craig Leslie attributes this "partly to limited availability, but also as households prioritize cost over speed." In a press release, he added that "Of the US broadband households that switched services in the past year, 50% did so to get a better price, while 36% switched to get better speeds. Households are not seeing the benefits to speed upgrades, especially as providers have conditioned households to differentiate based on pricing."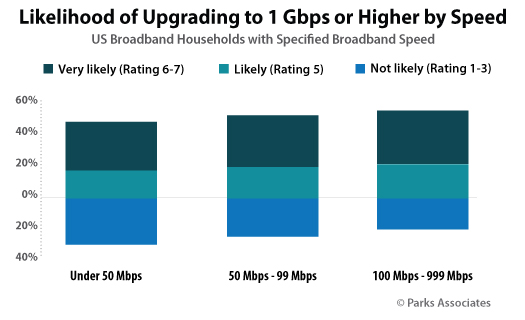 The report, "Modern Broadband: Competition and Retention at Gigabit Speeds," says that consumers have interest in gigabit speeds but that the interest does not necessarily translate to sales. Consumers don't see a compelling need and gigabit service is seen as unnecessary in most households. Providers therefore are positioning it as a premium service and part of "gigabit-backed bundles" featuring pay TV, OTT, and wireline phone.
Leslie said in the release that gigabit can be a retention tool. The best approach for providers is to feature the value of advanced service tiers and not focus on the gigabit element.
"Gigabit service can be a retention tool, positioned as an end destination for consumers as their speed needs increase," Leslie said. "A provider's success might be better measured in terms of consumer interest and conversion to any service tier, than just on its gigabit bottom line," Leslie said. "As differentiation becomes even more difficult, providers will increasingly add new cloud-based services, such as network control, home security, and smart home applications, to give their subscribers maximum flexibility in finding the right service bundle for their needs."
Earlier this month, BroadbandNow took a look and found weakness at the lower end of the broadband landscape in the U.S. The organization found that 45% of the U.S. population lacks access to a low-price wired broadband offering.