As the gigabit network movement gains momentum, stakeholders have learned a variety of lessons from the nation's earliest deployments of the ultra-high-speed broadband service, notes Gig.U in a report released today. Gig.U, an organization that has been working with university communities for several years with the goal of gaining gigabit networks for those communities, has had quite a few success stories.
"In the beginning, we had little but our own optimism," writes Gig.U in the 34-page report titled "From Gigabit Testbeds to the 'Game of Gigs.'" But today "the landscape looks different than it did just a few years ago," Gig.U says.
Gig.U currently has more than two dozen projects in the works, including several where the local community is negotiating with at least one service provider, sometimes two.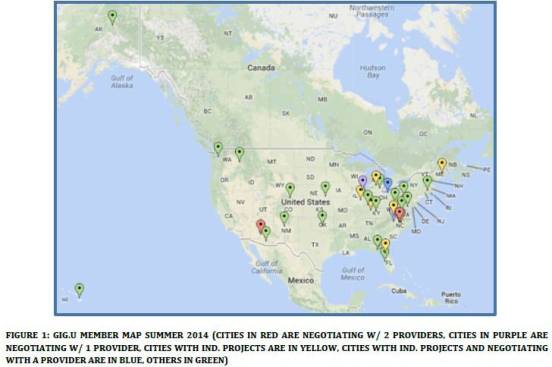 Gig.U Lessons Learned
Between Gig.U projects and other gigabit projects, stakeholders now have a considerable knowledge base from which to draw – and based on that knowledge base, Gig.U argues that "Local leadership is the single most important ingredient for success. . . In every community where an effort has been strong local leadership that has made it a priority."
The Gig.U report lists several other important lessons learned from gigabit deployments to date, including:
Start with a clear understanding of how your city rules and assets affect deployment costs – a process that can be made easier by using tools developed by organizations such as Gig.U and the Fiber to the Home Council.
As it takes a long time to plan and deploy a network – and it always takes longer than you think – the right time to start thinking about how to improve the economics is today.
Incumbents only respond to a potential change in the status quo. Inaction by a city leads to inertia in the market.
Cities that act will have to choose between the quick, short-term win and the harder, longer term win. The short-term win takes the form of quick concessions from incumbents in exchange for stopping a process that opens the door to new providers.
While success depends upon broad support, it also depends on quick decision-making. For a project to be successful there must be a broad coalition of interests supporting it, but that coalition must have enough confidence in local leadership to allow that leadership to act quickly on behalf of all.
There is no one-size-fits-all solution.
Experiments don't always work the first time. Make sure the community leadership understands this and that there is a path to learn from experiments and improve performance in successive iterations.
Scale matters. It is unlikely that any of the eight North Carolina communities that worked together to bring gigabit service to the area would have succeeded individually.
The report authors note that two early projects involving new market entrant Gigabit Squared have been put on hold as Gigabit Squared was not able to meet early benchmarks. They also note, however, that "all the Internet service providers of current Gig.U-affiliated projects are entities with existing business lines that are either upgrading existing networks or moving into an adjacent geographic or product market."