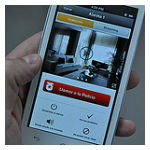 People want to quite literally take their smart home technology installation in-house, according to a new survey about smart home self-installation from GfK Research.
The firm found that 52% of consumers would prefer to install smart home products themselves, which is up from 43% in 2015. The firm also found that 57% want to maintain the devices themselves, an increase from 51% in the earlier survey.
"We cannot say right now if the desire for self-sufficiency is driven by cost or a true independent streak – but it is definitely a marketplace force to be reckoned with," Tom Neri, Commercial Director for Tech & Durables at GfK, said in a press release. "Device makers and service providers alike need to work harder to collaborate and pave the way for seamless installation and service; reflexive siloed behavior will only drag down acceptance and yield poor word of mouth from amateur technicians. That said, there does exist a segment of consumers, skewing older, that would be responsive to an install and maintenance service support offering for Smart Home products."
Smart Home Self-Installation
The age group findings tell an interesting tale. Compared to 2015, this year's respondents are 10% more likely to want to self-install in the 18- to-24-year-old and 35- to 44-year-old age groups, 19% more in the 25- to 34-year-old age group, 5% percent more in the 45- to-54-year-old age group and 3% among those 55 years old and older.
The survey captured the views of 1,000 U.S. consumers. Sixty-two percent said that they expect devices from different vendors to communicate with each other. Respondents between 25 and 34 years-old and between 35 and 44 years old expected this most often, at 68 percent and 72 percent, respectively.
There still is significant support for working with outsiders on smart home devices, however. CSG International last year found that 40% of 2,000 cable, satellite or pay-TV subscribers surveyed will seek online installation help for smart devices and 89 percent will seek the help of cable and satellite companies if offered.