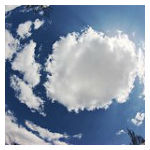 Despite widespread use of multi-platform cloud services 3 in 10 U.S. Internet users (29 percent) don't see any value in cloud storage. On the flip side, nearly as many (27 percent), consider it essential, according to the results of a study conducted by GfK.
The results place U.S. Internet users among the bottom seven of those in 22 countries measured by their level of interest in cloud storage. End users in the U.K., Sweden, Belgium, Australia, Canada and Germany rated the usefulness of the cloud even lower, GfK highlights in a press release.
Variations in Interest in Cloud Storage
Outside of geographic location, GfK found huge differences in attitudes about cloud computing and communications. More than 4 in 10 of survey respondents ages 50-59 (44 percent) in the U.S. said they don't see value in cloud storage. That rose to 55 percent for those over 60.
Much lower percentages said they see the cloud as essential: 16 percent and 12 percent, respectively. Americans ages 30-39 registered the highest interest in the U.S. at 41 percent.
Gender-wise, GfK found that slightly more men had positive attitudes about the cloud than women, 30 and 25 percent, respectively. Women were slightly more likely to have negative feelings: 31 percent said they don't see the cloud's value as compared to 28 percent among U.S. men.