Sponsored Content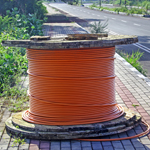 An historic rural broadband opportunity is unfolding in 2020. A new FCC initiative, the Rural Digital Opportunity Fund, or RDOF, aims to inject billions of dollars in funding to support the construction and operation of rural broadband networks. FiberRise sees the RDOF initiative as an important milestone for the utility broadband community and we look forward to working with our partners to maximize this rural broadband funding opportunity.
RDOF Explained
The RDOF is the latest iteration of the FCC's universal service fund (USF), more recently referred to as the Connect America Fund (CAF). This program was developed decades ago to fund the construction and operation of telecommunications networks, and later, broadband networks. The goal of the program was to ensure comparable telecommunications services at affordable costs to rural Americans, to be on par with their urban counterparts. The initial focus of the USF was telephone service, but it has shifted focus in recent years to broadband service through the CAF.
The RDOF is an extension of the CAF and will provide $20.4 billion in funding over a ten-year period to support broadband networks in rural communities across the country. The funding roots of RDOF come from traditional high-cost universal service funding previously earmarked for territories served by large "price cap" telecom carriers such as CenturyLink, Frontier, AT&T, and Verizon. Historically, the FCC provided this funding directly to these legacy telecom carriers to support broadband service in the rural communities served by them. But RDOF changes this process significantly.
Rather than dispersing these funds to these carriers, the FCC has proposed to auction them off through a reverse auction. Interested broadband carriers can participate in the auction and bid for these funds, with winning bidders promising to deliver broadband and voice services at the lowest cost to those same territories.
The FCC is proposing to follow the model of the 2018 CAF-II reverse auction for the upcoming RDOF auction. The CAF-II auction awarded close to $1.5 billion in rural broadband support. The FCC RDOF proposal is outlined in a January 2020 Report and Order. The order will be voted on at the upcoming January 30th FCC open meeting.
Some Details
The FCC' s order proposes to assign funding from the auction in two phases. Phase I will have a budget of $16 billion and will target those areas that currently lack 25 Mbps downstream and 3 Mbps upstream broadband service. Phase II, with a budget of $4.4 billion (plus any remaining funds from Phase I) will target those areas that are deemed partially served as well as any areas not won in the first phase.
The FCC proposes creating four performance tiers for RDOF funding. These tiers will be weighted, with faster speed, lower latency tiers receiving more consideration for funding. The current three tiers include a minimum of 25/3 Mbps, a baseline of 50/5 Mbps, an above baseline of 100/20 Mbps, and a gigabit tier of 1 Gbps/500 Mbps.
Winning RDOF bidders will have the flexibility to use any fixed broadband technology that can meet these required performance obligations.  Currently, the order states that RDOF recipients would be required to offer standalone voice service and offer voice and broadband services at rates that are reasonably comparable to rates offered in urban areas.
The FCC proposes winning RDOF bidders must be designated eligible telecommunications carriers (ETCs), a designation obtained through state regulatory commissions for each territory within that state in which a provider intends to offer service.
A proposed two-step application process for RDOF participation includes a short form and a long form. More details about the RDOF program may be found here.
FiberRise can help manage the entire RDOF process and partner with electric cooperatives to build and operate utility-grade fiber projects. Contact us to discuss the RDOF opportunity or any rural fiber broadband project and to learn more about the RDOF, download our whitepaper.

Interested in publishing a sponsored post to Telecompetitor? Contact us or call 240-450-2161.