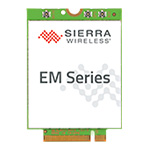 The industry moved a step closer to CBRS commercial deployment with the news yesterday that a CBRS module from Sierra Wireless had received FCC certification. The FCC certified CBRS module is designed for end-user devices, explained Dave Dixon, senior product manager for Sierra Wireless, in answer to questions from Telecompetitor. Sierra Wireless claims to be the first company to have FCC certification for that type of offering.
"Sierra Wireless sells radio modules to OEMs who integrate them into end user products," said Dixon. "The end user device could be just about anything, but we see the typical devices as being tablets, laptops and routers/mobile gateways."
Dixon said it is possible that the module could be used in a smartphone, but that smartphone manufacturers are more likely to use radio chipsets on their own printed circuit boards.
Sierra Wireless expects to see end products using the company's FCC certified CBRS module launched in the market in the first quarter of 2019. "The lead products will likely be some type of router or mobile gateway product," said Dixon.
The CBRS band includes 150 MHz of mid-band spectrum, some of which will be available for unlicensed use and some of which will be auctioned. The spectrum is expected to support a range of innovative use cases, including high-speed fixed wireless access, private LTE and eventually, mobile 5G service.
FCC Certified CBRS Module
Now that Sierra Wireless has FCC certification on the CBRS module, Sierra Wireless part number EM7565, it should be relatively easy for manufacturers of end-user devices that use the module to get FCC certification for the finished products, Dixon explained.
"In most cases, the integrated product can simply leverage the EM7565 FCC grant," he said. "There are broad conditions listed on the FCC grant and, as long as the OEM adheres to them, there is no (or minimal) extra work required."
Some network operators already have made CBRS deployments on a trial basis, but the industry is still waiting for all the pieces to fall in place to make commercial CBRS deployment possible.
The FCC took a big step in that direction last month when it formalized rules for the CBRS spectrum band.
Some CBRS access points already have received FCC certification, and the availability of an FCC certified CBRS module is another important step toward commercial CBRS deployment.
Another key issue that must be resolved is FCC certification of the spectrum access systems that will keep track of where spectrum is available for commercial use. Those systems are required because commercial operators will be sharing the CBRS band with incumbent military users, which operate in specific geographic areas.