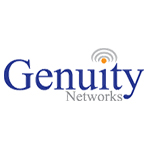 Genuity Networks is a non-traditional communications service provider with a rather unique business model that could be relevant for other types of providers as well.
The New Hampshire-based company started out in 2011 as an auditing and telecom consulting agency serving enterprises in the area and nationwide. More recently the company began acting as a telecom service reseller and has even begun building its own fiber network in some areas. But perhaps the most unique aspect of the company's offerings is based on technology from Mushroom Networks that enables the company to bond together landline or wireless connections from multiple network operators to create a single higher-speed and more reliable connection, explained Genuity Networks General Manager Scott Michaud in an interview.
Genuity Networks Secret Sauce
Genuity formally announced its partnership with Mushroom Networks today, but has already sold the Mushroom technology to some customers, Michaud said.
"A client might have an existing cable connection and as they move apps to the cloud, uptime is more critical," explained Michaud. "If the Internet is down, a line of business could cease working."
In that situation, Genuity's solution would be to bring in an additional circuit from a different service provider, bond the two circuits together and enable each circuit to back up the other.
Genuity Networks also adds its own secret sauce to its Mushroom-based services by running connections through one of its own data centers. That approach prevents higher-layer IP-based connections such as SIP from being disconnected in the event that one of the circuits goes down, Michaud explained.
Normally in that situation the IP address associated with the dropped connection would be lost, interrupting IP communications. But as Michaud explained, "We assign a public IP address out of the data center so that as . . . we change a connection out . . . the service stays up."
The Mushroom technology is also useful for boosting bandwidth in remote rural areas, Michaud noted. He cited the example of a school in a remote area of Maine that previously relied on three different DSL connections to provide connectivity for teleconferencing. The school didn't use all three lines simultaneously. Instead, if one connection became oversubscribed, the school would manually reconnect to a different line.
By connecting the school's DSL lines to a Mushroom device, the school now has greater bandwidth — and in the event that one connection goes down, one of the others may still work. Michaud also noted that the Mushroom technology supports differentiated quality of service (QoS) capability, and that Genuity has set up the equipment at the school to prioritize teleconferencing traffic over less critical traffic such as YouTube videos.
Offering bonded services based on the Mushroom technology seems like a logical next step for a company like Genuity that already has established relationships with multiple carriers. Moving forward, the company also expects to be able to leverage data gathered from the Mushroom technology to gauge which network operators offer the most reliable service in an area and to steer customers toward the most reliable operators.