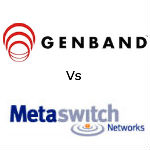 The Mobile World Congress show in Barcelona this week is the backdrop for dueling announcements from softswitch vendors Genband and Metaswitch. Both companies launched new products aimed at enabling carriers to add multimedia capabilities to differentiate their offerings from over-the-top applications.
A key new capability from Genband is support for RCS-e (enhanced Rich Communications Suite) a set of capabilities designed to run on an applications server to give mobile users a range of multimedia capabilities such as the ability to chat with someone in their address book or to easily set up a video call without requiring them to download an app or use an over-the-top provider.
Metaswitch is no stranger to RCS-e, having last year acquired Colibria with the goal of gaining RCS and RCS-e expertise. According to Metaswitch's announcement today, its new product launch is based in part on that expertise.
Like Genband, Metaswitch also aims to give end users a range of multimedia capabilities—but its offering appears to be a bit broader, targeting applications that work seamlessly across fixed and Wi-Fi networks, as well as 3G and 4G networks.
Genband Mobile Life
Genband's RCS-e suite is called Genband Mobile Life. The company positions the offering, which works with its A2 Communications Application Server, for "families on the go."
"Consumers depend more than ever on their mobile devices to deliver a range of capabilities traditionally offered in standalone solutions and applications," said Mehmet Balos, chief marketing officer at Genband, in the product announcement. "Genband Mobile Life brings it all together in one feature-rich application, from videoconferencing to controlling TV settings to family schedules."
Genband also launched GENiUS IMS, an IP multimedia subsystem (IMS) solution designed to provide "best-in-class" elements of integrated and distributed IMS environments.  While the idea behind the softswitch initially was to break apart different telecom functions that previously would have resided on a single device onto separate devices, some carriers are now looking to recombine some of those functions to minimize network complexity.
"Genband GENiUS IMS is a breakthrough approach that eliminates the complexity of deploying, integrating and managing separate IMS elements across operational systems," said Genband President and CEO Charlie Vogt in the GENiUS IMS announcement. "The GENiUS Integrated IMS solution is a game changer for service providers who don't want the complexity of deploying separate IMS elements and the burdens of integrating these separate elements into their operational systems and maintaining them on an ongoing basis."
Genband's third announcement was the P Series 320, a traffic and policy management platform with 100 gigabit Ethernet capability.
Metaswitch Accession
Metaswitch's new product based in part on RCS-e is called Accession. Like Genband Mobile Life, the product runs on an application server.
Accession capabilities include enabling subscribers to share multimedia content, jump between devices, uplift to higher definition video and seamlessly move calls in progress between licensed 3G/4G and unlicensed Wi-Fi spectrum. The ability to use Wi-Fi for mobile device communications has been an area of great interest of late as end users seek to minimize monthly charges and carriers seek to minimize traffic on congested mobile networks.
In the announcement, Metaswitch CEO Kevin DeNuccio touted Accession as a means for service providers to gain greater consumer mindshare. Noting that consumers until now have focused more on handset vendors and app providers, DeNuccio said, "With Accession, the balance of power swings firmly in favor of . . . network [operators], allowing them to deliver trusted, secure rich and unique applications around the one true global identity: a telephone number."
Service providers have two means of implementing Accession. They can purchase Accession IMT/IMX–which includes elements for application creation and deployment, service centralization and continuity, media conversion and session border control–and deploy it in their networks. Or they can use a cloud-based option called Accession MCS, which uses a client/server approach to mobile content sharing. A client is available for mobile devices based on Android, Apple iOS or BlackBerry OS.