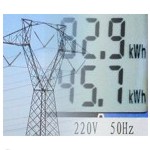 Platform-as-a-Service (PaaS) is a component of the burgeoning cloud computing industry and GE is adding some heft to it's value proposition by introducing a smart grid-as-a-service offer.
Officially called GridIQ Solutions as a Service, GE Energy announced the municipality of Norcross, Georgia will deploy their smart grid-as-a-service platform. In partnership with Electric Cities of Georgia, GE plans to manage Norcross' smart grid network on a "giant cloud computing platform in Atlanta," according to a GE press release.
GE Energy's  fusion of smart grid and cloud computing technologies looks like a great concept, what with the finances of U.S. municipalities and states increasingly strained and the ongoing innovation and capability in both smart grid and cloud computing.
The Future of Smart Grid?
GE Energy didn't disclose financial details of its GridIQ proposal to Norcross' city electric utility, but the profitability of the smart grid-cloud service should increase with scale, particularly on the IT side of the business, where the cost of purchasing computer and server capacity to manage the smart grid would make up a significant percentage of the smart grid system's costs.
Greentech Media's (GTM) research arm, GTM Research, forecasts that U.S. utilities will spend $8.5 billion on smart grid enterprise IT from 2011 to 2015.
GE Energy is headquartered in Atlanta and hence has a lot of "computing horsepower" there that it can shift around and allow customers to make use of, general manager of GE Energy's smart grid solutions unit Mike Carlson was quoted as saying by GTM.
Norcross and other GridIQ customers would not only avoid having to pay for building and maintaining their own smart grid systems, but they'd also outsource supporting business functions, such as billing and managing emergency response communications during a storm, Carlson noted.
GE's servers would become a revenue generator, and the company would be able to use and manage them more efficiently.
Norcross' utility figures it could pay GE Energy to build and use GridIQ to manage its smart grid by increasing the monthly bills of its customers by only $1 per month.
The city utility's customers would benefit as well, however, it said, from lower meter management costs, quicker outage management response and quicker service restoration times.
"It also sets them up for advanced energy management, like demand response capabilities, electric vehicle integration, and advanced distribution requirements," Carlson said — pretty much everything you'd expect the smart grid to connect to someday. Eventually, GE can hand the controls over to the utility after a while, or keep running the entire thing from its central command center."