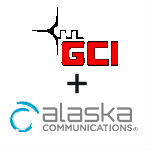 A pioneering joint venture that enabled two competitive service providers to share wireless infrastructure is expected to come to an end by early next year, when Alaska Communications System Group expects to sell its share of the joint venture and its wireless customer base to venture partner General Communications Inc. (GCI).
Wireless is not the primary business for either venture partner. GCI is a cable operator and broadband provider, while Alaska Communications has been the incumbent local service provider in Alaska for 120 years. According to Alaska Communications, the company today gets more than half of its business from business and wholesale services – and on a call with investors today, Alaska Communications CEO Anand Vadapalli said the company was making the sale in order to better focus on higher-growth and more profitable broadband services.
The GCI and Alaska Communications joint venture, known as Alaska Wireless Network (AWN), was announced in 2012 and established in 2013. The goal was to give the two partners economies of scale in the wireless business. The joint venture sold services to the venture partners on a wholesale basis, with the two venture partners responsible for retail sales.
The GCI/ Alaska Communications Deal
From the start GCI, with two-thirds ownership, had a dominant share of the joint venture. It also has more customers – about 140,000 compared to Alaska Communications' 109,000. When the transaction is completed, GCI said it will be the second largest wireless network operator in Alaska and will have a better cost structure.
GCI will pay $300 million for Alaska Communications' wireless customers and assets – an investment made possible, in part, by an infusion of $75 million from private equity firm Searchlight.
On today's conference call, Alaska Communications executives said the decision to sell at this time was made because the company was offered an attractive price. But Verizon's recent entry into the Alaska market also may have played a role. Previously AT&T was the only major national carrier to offer service in Alaska.
According to Alaska Dispatch News, however, AT&T and Verizon wireless offerings are concentrated in the state's tourist areas and on major highways, while the AWN network also covers more remote areas.
Financial details of the Alaska Communications/ GCI deal can be found in Alaska Communications' investor presentation.