Small businesses in communities with federally funded or municipally operated broadband networks have gained better broadband connectivity – and that has helped the businesses operate more efficiently, says the Government Accountability Office.
The GAO made its conclusions based on meetings with small businesses in 14 communities with municipal networks or broadband networks that were funded, at least in part, through programs such as the broadband stimulus program, the Universal Service/ Connect America Fund program and Rural Utilities Service broadband grant and loan programs. Although these programs primarily target residences, participating network operators also may be required to bring service to businesses who request it, the report notes.
The networks that the GAO studied were in four states – Georgia, Minnesota, Oregon, and Tennessee. "We selected the states based on several factors, including the presence of a network that received federal funding for infrastructure in the past 5 years," the GAO says in a report written in response to a congressional request and released publicly on Monday.
The specific communities studied were:
Dawsonville, Georgia
Dahlonega, Georgia
Bingham Lake, Minn.
Jackson, Minn.
Monticello, Minn.
Windom, Minn.
Red Lake Falls, Minn.
McIntosh, Minn.
Two Inlets, Minn.
Sandy, Ore.
Gervais, Ore.
Monroe, Ore.
Independence, Ore.
Chattanooga, Tenn.
The businesses interviewed were customers of municipal networks or of network operators that received federal funding. The GAO also collected information about broadband speeds and pricing from the network operators.
Specific report findings include:
In 9 of the 14 communities municipal and federally funded networks offered higher top speeds than other networks in the community or in neighboring communities.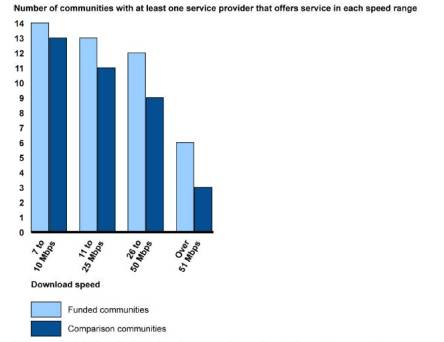 In comparison with similar nonurban communities without federally funded networks, the 14 study communities were twice as likely to have a provider offering speeds of 51 Mbps or higher.
Prices offered by federally funded and municipal networks were slightly lower than prices offered by non-federally funded networks.
18 of 27 small business customers of the funded network operators said their new service is more reliable than the service of their previous provider.
The news about municipally funded networks comes at a time when some states have enacted or are considering enacting laws aimed at outlawing those networks. The report should be of particular interest to FCC chairman Tom Wheeler who has hinted that the commission might challenge anti-municipal network legislation.