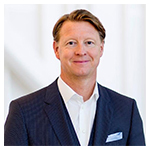 Verizon's next CEO will be Hans Vestberg, former CEO of key supplier Ericsson, who joined Verizon as chief technology officer just over a year ago. Verizon announced that he will assume that title August 1, replacing Lowell McAdam, who has been Verizon CEO for seven years. What should we expect from future Verizon CEO Hans Vestberg?
Future Verizon CEO Hans Vestberg
McAdam offered his own answer to that question in a video shared with employees and the public today.
"When a business looks to transition, [we] look for points in time where the business is performing well and where there is an opportunity to position itself for the future," said McAdam. "We now have the opportunity to leverage the investment we have made in 5G and fiber to bring the fourth industrial revolution to America."
Noting that he has worked with Vestberg for over 10 years, McAdam called Vestberg an "outstanding strategist" who "has been able to position his business to take advantage of global trends."
As Verizon CTO, Vestberg "has demonstrated his willingness to disrupt our own processes and bring in new practices that make us stronger for our employees, customers and shareholders," McAdam commented.
Vestberg joined Verizon in April 2017 amid a reorganization of the company into three business units, including media and telematics, customer and product operations, and network and technology. Vestberg was chosen to head up the network and technology unit, which has been heavily involved in plotting Verizon's 5G wireless strategy.
McAdam's Legacy
Under McAdam, Verizon has been a heavily wireless-focused company – although the company remains one of the largest players in the enterprise  and residential broadband markets.
Under its previous CEO Ivan Seidenberg, Verizon was a pioneer in deploying fiber-to-the-home (FTTH) technology, but under McAdam the company reined in that investment after deploying the technology everywhere management believed it made economic sense — although it is looking at upgrading FTTH markets to support higher speeds.
Verizon often comes up tops in comparison tests of wireless service and McAdam has said the company sees that as a differentiator moving forward.
Under Vestberg, Verizon appears to be on track to retain its heavy wireless focus and if so, he appears well qualified for that responsibility. At a recent investor conference, for example, Vestberg deftly fielded a range of questions about the company's 5G plans.
How Verizon fares against the competition on the 5G front will be key for Vestberg. Unlike with some of its competitors, the company's 5G strategy is focused on using high-frequency spectrum to maximize speeds – albeit at a substantial deployment cost due to limited range in comparison with 5G at lower frequencies. Recently the company acknowledged that it would need to use lower frequency spectrum for some 5G deployments.
Verizon's 5G strategy also differs from its competitors with regard to fixed 5G. While AT&T sees limited applications  for that technology, Verizon sees it, not only as a stepping stone to mobile 5G, but also as a means of bringing broadband speeds as high as a gigabit per second to 30 million potential customers in areas where economics don't justify FTTH investment.
McAdam has set a high bar for his successor, commenting in today's video that Verizon has "the opportunity to extend the lead over our competition, making the company an even stronger force for delivering the promise of the Digital Age to our customers."