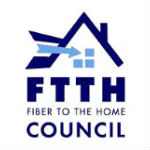 Some 9 million North American households now have fiber network connections to their homes. Small, incumbent telcos continue to lead growth in fiber-to-the-home (FTTH) network deployments, with 21.3 million North American homes now having FTTH access. That's up more than 10% in the past six months, according to the Fiber-to-the-Home Council Americas.
All but eight of nearly 880 FTTH service providers surveyed have fewer than 30,000 subscribers, while only five have more than 50,000 FTTH access lines. Some 97 percent have fewer than 10,000, according to RVA LLC, which tracks FTTH for the Council. Verizon alone serves more than half of North American FTTH households, according to RVA's findings.
Internet access speeds in more than 500,000 North American households are in excess of 100 megabits per second (Mbps), with tested FTTH throughput speeds among survey respondents beginning to open a gap with alternative network access technologies in terms of both upload and download speeds.
"While large providers such as Verizon in the U.S., Bell and Bell Aliant in Canada and Telmex in Mexico continue to be very important, small providers such as rural telcos, real estate developers, small competitive providers and even rural electric coops are playing a key role in driving the expansion of fiber to the home," commented RVA president Michael Render.
"In addition, other large providers are growing in importance. AT&T is increasing its deployment of FTTH in new developments, and the new Google Gigabit fiber deployment in Kansas City is now fully underway."
Median tested FTTH subscriber download speeds were above 30 Mbps as compared to less than 15 Mbps for cable modem users. FTTH upload speeds among those tested were over 9 Mbps as compared to about 3 Mbps for cable modem service subscribers.
"What we're finding in our surveys is that the advantages of having an all-fiber infrastructure are now starting to be experienced by subscribers in very real ways," said FTTH Council Americas president Heather Burnett Gold.
FTTH Council Americas' released its latest industry report Sept. 24 at its annual conference in Dallas, along with results of of its first comprehensive study on emerging FTTH deployment in Latin America.
Conducted for the FTTH Council Americas' LATAM Chapter by consultants at IDATE, researchers found that all-fiber networks now pass 4.2 million homes across the region, with 350,000 FTTH home connections. Mexico leads the region when it comes to FTTH, followed by Brazil. Deployments also look promising in Chile and Argentina, according to the Council.
"We found that the main fiber architecture being deployed in Latin America is FTTH, as opposed to fiber to the building, and that GPON is the preferred technology – involving more than 80 percent of the deployments in both cases," said Roland Montagne, Director of the Telecoms Business Unit at IDATE.