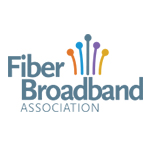 Recognizing the broader application of fiber broadband, the FTTH Council has changed their name to the Fiber Broadband Association. It's a smart move, given the relative limited focus of the fiber-to-the-home (FTTH) descriptor.
Indeed fiber broadband powers so much more than just home connections, including businesses, cell towers, small cells, MDUs, distribution points, and on and on. A brand with a broader focus allows the Fiber Broadband Association to better reflect a broader fiber broadband ecosystem.
While FTTH remains an important broadband access technology, there is also significant momentum in hybrid-fiber access technologies. These include 'last mile' technologies that bring fiber closer and closer to the premises, but use other access mediums to get into the home or business, including fixed wireless, coax, and even copper.
The advent of 5G will see even more reliance of wireless networks on fiber backhaul to dramatically increase the bandwidth and performance of wireless networks, both mobile and fixed.
"Just as our industry is witnessing an exciting expansion of demand for the speed and resilience of fiber optic technology, the Fiber Broadband Association's brand must reflect the dynamism of our members," said Heather Burnett Gold, President & CEO, Fiber Broadband Association in a press release announcing the change. "Our mission has expanded beyond the home, and our new look now reflects the extension of fiber to every aspect of our connected future."
The Fiber Broadband Association already rebranded their flagship tradeshow from FTTH Connect to Fiber Connect, which is scheduled to take place in Orlando this June.