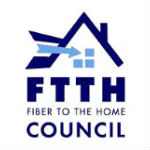 Small and medium-sized telecompetitors in North America upgrading to all-fiber broadband networks are saving an average 20% annually on regional operating costs, according to a new study commissioned by the FTTH  Council Americas.
Surveying more than 350 North American telecoms providers, market analysts at RVA LLC also found that the number of homes that can access FTTH networks increased 17.6% during the past year to reach 22.7 million. The number of homes with direct FTTH connections now totals 9.7 million, a more than 20% increase from April, 2012.
The average 20.4% annual cost savings reported by survey respondents as a result of upgrading from copper to all-fiber for last-mile connectivity came about largely in the form of reductions in repair and maintenance expenses.
"This latest survey shows not only the continued build-out of high-bandwidth fiber to the home networks in North America, but also provides one reason why hundreds of small and medium-sized telcos have been upgrading to fiber – it saves them real money in the long run," FTTH Council Americas president Heather Burnett Gold was quoted in a press release.
Telecompetitor's drive to outdo the competition by providing a better broadband experience,  enabling more personalized services and features has been fueling an industry-wide drive to upgrade to all-fiber networks. Demand for more bandwidth is expected to continue to accelerate, driven by proliferation of smart, connected devices and "the emergence of sophisticated online applications for video over the Internet, online multi-player gaming, online education, work-at-home and telemedicine" applications, according to FTTH Council Americas.
Verizon in the U.S. and Bell Aliant in Canada account for "a large share of the FTTH connections on the continent," the FTTH Council Americas notes, though RVA "documented nearly 600 small and medium-sized telephone companies that have upgraded at least part of their subscriber base to all-fiber." In addition, nearly 100 municipalities have deployed FTTH networks as a public utility, RVA found.
Very High Bandwidth Subscribers
The number of "very high bandwidth users" in North America has grown alongside growing FTTH connectivity: more than 640,000 North American households now receive 100 megabit per second (Mbps) service via an FTTH network, in both the upload and download direction, according to the FTTH Council Americas. Moreover, gigabit connectivity is emerging on the continent, "most notably Google Fiber in Kansas City and EPB Chattanooga in Tennessee.
Increased fiber connectivity has been particularly strong in Canada recently. More than 540,000 Canadian homes are now connected to all-fiber networks as compared to some 100,000 three years ago, according to the FTTH Council Americas.
Survey results also indicated renewed activity on the part of real estate developers in incorporating FTTH networks in planned communities. The uptick is coincident with a nascent recovery in housing construction and "a trend by builders of planned communities to install all-fiber networks in their new developments" as a means of adding value and attracting buyers.
"While it is clear from our survey that many prospective FTTH providers continue to face funding difficulties and regulatory uncertainty, many are still finding ways to upgrade to all-fiber because doing so reduces their maintenance costs and strengthens their opportunities to expand their subscriber base and offer customers more services," RVA president Michael Render commented.
The FTTH Council will be holding a special conference May 29-30 in Kansas City dubbed "From Gigabit Envy to Gigabit Deployed" that aims to help "local telecoms and civic leaders learn what they can do to bring ultra high speed, all-fiber networks to their communities."