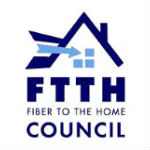 Fiber-to-the-Home (FTTH) network subscribers are much more satisfied with their telecoms and network services than those subscribing to competing cable and DSL services, and they're getting "considerably more bandwidth for the buck," according to FTTH Council.
More than 18% of North American homes had access to FTTH connections, and more than 7 million of them were connected, according to the results of a report commissioned by the FTTH Council.
Regarding customer satisfaction, 74% of FTTH subscribers said they were "very satisfied," up from 71% a year ago, as compared to the 54% of cable and 51% of DSL subscribers who said so.
The report's results also claim that FTTH subscribers are getting a lot more in the way of performance than their cable and DSL subscriber counterparts. FTTH subscribers were paying an average $2.91 a month per megabit of bandwidth while cable subscribers were paying $3.83 a month, DSL subscribers $16.40 per month, and fixed wireless subscribers a whopping $49.83 a month.
FTTH's greater bandwidth translated into faster download and upload speeds. FTTH households had average download speeds of 19.7 Mb/s, up from 16.6 Mb/s a year ago, compared to an average 13.3 Mb/s for cable households and 2.9 Mb/s for DSL households, according to the press release. FTTH subscribers were uploading at an average 5.4 Mb/s with cable subscribers averaging 2.7 Mb/s and DSL subscribers 0.7 Mb/s.
"This year's survey shows that end-to-end fiber services are extending their lead over other broadband technologies in speed, value and customer satisfaction," said Dan O'Connell, President of the FTTH Council. "We expect this trend will continue as bandwidth requirements for the latest video and other applications continue to accelerate, and growing numbers of consumers expect to be able to access them through their telecommunications providers."