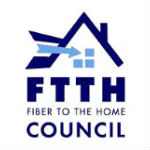 The FTTH Council released its latest FTTH market data at the FTTH Conference taking place this week in Orlando. More than 7.6 million homes now receive broadband, video, and/or voice services from a FTTH connection, according to the data, which is collected by market research firm RVA.
FTTH connections grew by 18%, or 1.15 million over last year. Total FTTH homes passed now reaches 22 million for North America, a gain of 10%. RVA reports that momentum for FTTH is growing in Canada, Mexico, and the Carribean. Monthly ARPU for FTTH subscribers is on the rise, up to $143 from $136 in 2009.
There's been some debate at the FTTH Conference regarding the economic impact of FTTH, which is the theme of this year's show. Light Reading's Carol Wilson is covering the show and reports that there have been somewhat conflicting opinions regarding the impact of FTTH on local economies.
RVA reports their research suggests FTTH adds 35 jobs and a $500K in local revenue per 1,000 homes passed. Earlier discussions at the conference, including one led by Calix executive David Russell, suggested determining economic impact from FTTH is difficult to ascertain given its relatively short deployment timeframe.