Frontier has a goal of offering a triple-play bundle of voice, video and data using its home-grown Vantage video offering in 50% of the company's local service footprint, said Frontier President and CEO Dan McCarthy today. In the remainder of its territory, the Frontier video offering will be satellite-based, leveraging the company's existing relationship with Dish Network. McCarthy used the word "synthetic" to describe a triple-play offering based on the Dish service.
McCarthy made his comments at the Goldman Sachs Communacopia Conference, which was also webcast.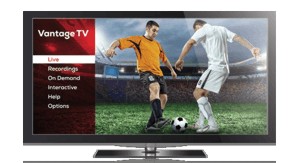 Frontier Video Strategy
Frontier has been touting improved economics for home-grown video and today was no exception. McCarthy noted, for example, that the company can now launch Vantage video for between $600,000 and $4 million per market. Traditionally per-market launch costs would have been in the range of $40 million to $70 million, he said.
Frontier uses the same platform to deliver Vantage video that it uses in areas where it purchased Fios lines from Verizon, which also has created cost synergies, McCarthy noted.
Apartment buildings are an excellent market for Frontier's triple-play offering, according to McCarthy. To serve those buildings, Frontier typically deploys either fiber or G.fast to create a "really compelling" offer that includes high-speed broadband, he said.