The Frontier purchase of Verizon lines in three states faced some unexpected challenges after the deal was completed last month, but those challenges were minimal compared to what the company faced with some previous acquisitions, said Frontier CEO Dan McCarthy today.
"It has gone better than any one that we have done before," said McCarthy, who also discussed growth opportunities resulting from the Frontier purchase of Verizon lines. McCarthy made his comments at the J.P. Morgan Technology, Media and Telecom conference today, which was also webcast.
Challenges that Frontier experienced fell into three categories, McCarthy said. These included:
The company experienced some "imperfect" customer data extractions from FiOS provisioning systems, yielding some "isolated" problems with customers and requiring the company to rebuild databases. As Frontier has acquired lines from both AT&T and Verizon in recent years, the company has moved to a "flash cut" approach to switching over operations systems, which generally provides better results than continuing to use the other company's systems for some period of time.
Not all of Frontier's planned video on demand library was available at close as the result of delays on the part of the company's supplier.
The company opted to continue to use Verizon offshore tech support, thinking those people would be more familiar with the existing product set, but some customers didn't like their tech support experiences. In response, Frontier has shifted much of the call volume to domestic agents. By July the shift should be completed.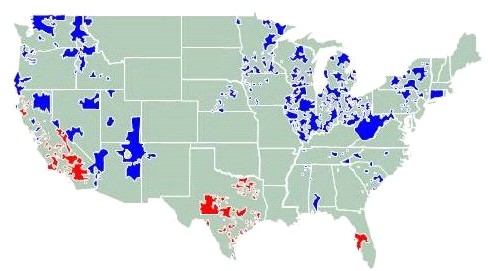 Gains from Frontier Purchase of Verizon Lines
McCarthy also noted some new capabilities pioneered in the new Verizon areas that could benefit Frontier if extended nationwide.
He noted, for example, that almost one million customers in the areas newly acquired from Verizon signed up to use a new self-care system within the first 30 to 40 days of Frontier's ownership of those lines. As a result the company was able to "deflect calls coming into the contact center," McCarthy said.
If the self-care system were made available to all Frontier customers and if 25% of them were to sign on to use them, the resultant savings could be big, McCarthy said.
He also noted that software-based provisioning systems for next-generation products and services used in the newly acquired Verizon areas can save costs and reduce provisioning interval times and that he anticipates expanding those systems to legacy areas.
Growth Prospects
McCarthy and Frontier CFO John Jureller, who was also on the webcast, cited several areas where they see growth prospects resulting from the Frontier purchase of Verizon lines. McCarthy noted, for example, that about one third of small businesses in Frontier's legacy territory are Frontier customers but that percentage is smaller for the Verizon territories.
An important element of Frontier's growth strategy will be to boost the speeds of broadband service delivered over copper. Jureller noted that the population density in some Verizon areas is such that it can support "very large DSLAMs." That, he said, "makes it easy to . . . install, turn up and make big changes in the product set."
By putting in next-generation equipment, Frontier expects to increase maximum broadband speeds from the 7 Mbps range to the 100 Mbps or even the 300 Mbps range.
"That is a quantum change from a product . . . perspective," Jureller said.
As a result, Frontier hopes to be able to increase sales of copper-based broadband which have been declining for Verizon. The company has had considerable success with that approach in other areas it has acquired.