Frontier Communications announced a partnership with Nest to feature their popular Nest Learning Thermostat for a broadband Internet promotion. Frontier will offer the digital home product at a discounted price of $99 to new and existing broadband customers who subscribe to or upgrade their broadband service. But this Nest promotion is part of a larger digital lifestyle business initiative, headed up by the Frontier Secure division of Frontier.
The Nest Learning Thermostat is a popular digital home device, allowing customers to automate and monitor their home thermostat. It's a key component of a smart home and "…remembers what temperatures you like, creates a custom schedule for your home, and turns

itself down when you're away."
Nest, which is owned by Google, claims it can lower your energy costs by 10% – 15%. It normally retails for $250, although bargains can be found. The promotion applies to Frontier customers who subscribe to and/or upgrade their broadband Internet service, and to customers who take a Frontier Secure bundle.
Enabling the Digital Lifestyle
Frontier Secure offers a variety of services including Internet security, home networking support, device protection, and content and file storage. It's Frontier's attempt to build a business out of enabling digital lifestyle solutions for customers. Frontier Secure was launched in 2011.
According to Kelly Morgan, SVP and General Manager for Frontier Secure, the thermostat is one of a few Nest products to come to Frontier Secure. Morgan shared the digital lifestyle enablement strategy for Frontier Secure in an interview with Telecompetitor.
Frontier sees an opportunity with the do-it-yourself (DIY) culture that exists within the digital lifestyle segment. Adding the Nest thermostat to what is a growing line of digital home products is a part of a broader strategy which aims to give customers options and allow them to pick and choose their own products/solutions rather than subscribing to a managed home automation solution from a single provider.
"We're working on a number of initiatives around the digital home," said Morgan. "Our approach is different than companies doing an all-in approach for home automation and security."
Frontier Nest Partnership
Other Nest products are available and there are more coming, according to Morgan. Frontier offers the DropCam, now known as the Nest Cam, an IP based networked camera for home monitoring. Soon, they will offer Nest Protect, which is a networked smoke and carbon monoxide detector.
"We want to offer best-in-breed digital life products and wrap our premium tech support services around them," said Morgan. "We're out to change the game in how these products are delivered and it allows us to give customers the choices they want."
Frontier's premium tech support is delivered remotely and does not involve dispatching technicians. They partner with a variety of providers and white label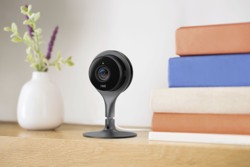 services like Internet and device security, which in this case is powered by F-Secure.
"We're using tools like video chat, which allows us to interact with customers and solve problems without dispatching technicians," said Morgan. "Customers love it."
Frontier Secure is available nationwide and you don't have to subscribe to Frontier services to buy their digital lifestyle products or bundles. Like other broadband service providers, Frontier is looking to add value to their broadband product and increase ARPU as a result. Frontier Secure products aim to aid in that effort.
"Creating a unique experience with our broadband creates value to get on a higher tier product," said Morgan.
Frontier wouldn't reveal any subscriber counts or penetration figures for these products, but did say they continue to grow and meet internal expectations. "We see a high growth rate in the non-Frontier footprint," added Morgan.