Frontier made broadband available to a record 185,000 locations in the third quarter and saw a 10% year-over-year increase in average revenue per user (ARPU) for fiber customers. But the fiber gains weren't enough to offset losses among copper subscribers, which declined to 1.264 million, down from 1.297 million in the second quarter.
Copper losses put a significant drag on overall results, causing broadband revenues to drop from $1.513 billion in the second quarter to $1.493 billion, even though the company saw increased revenues on the fiber side from $679 million to $684 million over the same period.
Some of Frontier's net fiber gains were a direct result of net copper losses, as the company upgraded existing services in some areas. But Frontier President and CEO Nick Jeffery noted on today's earnings call that the "overwhelming majority" of fiber adds were from customers who were new to Frontier. And according to Frontier financial data, the number of copper passings declined by just 200,000 to 11.5 million, down from 11.7 million in the second quarter.
Frontier Fiber Builds
Frontier has set a goal of becoming the nation's largest pure play fiber provider and of making fiber available to 600,000 new locations this year and to 6 million more by 2025, when it would have fiber available to 10 million locations.
And while it may take time before fiber gains offset copper losses, some other Frontier financial metrics offer reasons to be optimistic:
Consumer broadband churn, including fiber and copper customers, decreased 31% over the past year – an accomplishment the company attributes to improved customer service.
The company is seeing strong take rates for gigabit speed service – a development that bodes well for the company's plans to deploy 2 Gbps service.
Upgrades to higher-speed service were a key driver of the 10% increase in fiber ARPU in the third quarter
Customers' upstream bandwidth demand increased more during the COVID-19 pandemic than it did in the previous five years combined – a development that Jeffery sees giving the company an advantage against cable competitors.
"If you take our entry level price point for 500 megabit [symmetrical] service, [customers] can't buy that for any price from a competitor," he said in answer to a question from a financial analyst on today's earnings call.
He also noted that "Whilst we build aggressively, we're smaller than our primary cable competitors" and there may be situations where it's "potentially more expensive [for the cable companies] to react than not to react."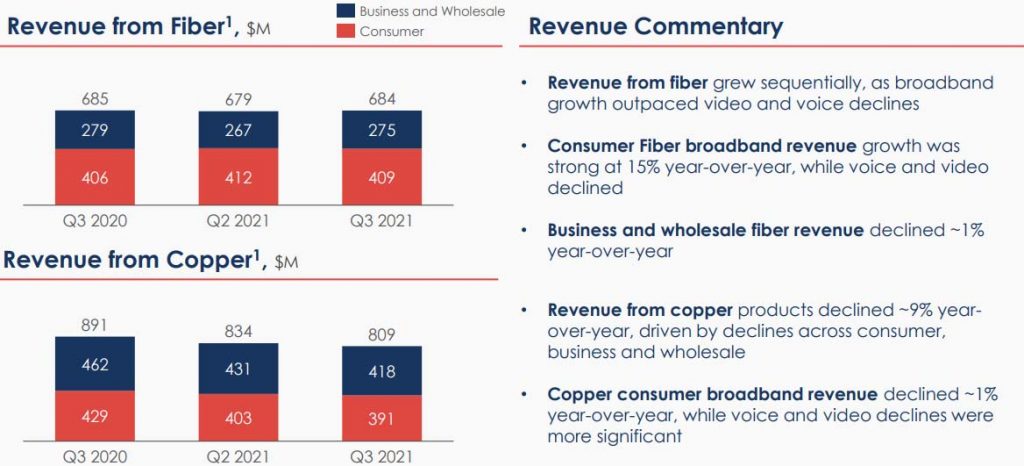 While Frontier clearly faces a long battle in overcoming its DSL copper legacy, it appears that the company is on the right track.
As telecom and broadband financial analysts at MoffettNathanson put it in a research note today, "The benefits of the modernization plan will take time, likely years, to start flowing through Frontier's P&L in a material way."
A "conservatively bullish" view on Frontier is "warranted," the researchers wrote.