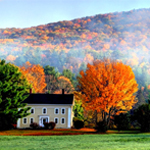 Rural broadband providers are taking on additional financial risks when they provide service at no charge during the COVID-19 crisis, according to a new report from CoBank Knowledge Exchange. CoBank, a key lender to rural broadband providers, warns that "cash flow and bad debt risks could impact rural operators' ability to invest in their networks and bridge the digital divide."
Rural Broadband Financial Risks
When schools sent children home to help prevent the spread of the COVID-19 virus, numerous local rural broadband providers extended service to homes with school age children at no cost, and hundreds of local rural broadband providers agreed to comply with the FCC Keep Americans Connected Pledge, which prevents providers from disconnecting customers for non-payment of bills at a time when unemployment has risen dramatically as a result of the pandemic.
"[G]iving away free service to those who can't pay their bill because of COVID-19 introduces the risk that nonpayers could include those who can pay their bill but choose not to over fears about future household cash flow," wrote CoBank Knowledge Exchange in the report titled "Rural Telecom Operators Take on Risks for Their Communities, But for How Long?." The author notes that the Federal Housing Finance Agency forecast that 2 million mortgages would be in forbearance at the end of April, but as of April 30, more than 3.8 million homeowners were in forbearance, perhaps spurred to pursue that option by the mortgage forbearance program included in the CARES Act.
"Either unemployment assumptions by the Federal Housing Finance Agency were too conservative or employed borrowers are opting to skip payments to conserve cash," the author wrote, adding that "a similar market response is expected to occur for broadband providers."
Possible USF Reforms
Against this backdrop, the CoBank report about rural broadband providers financial risks argues that "this may be an opportune time to implement long-term structural changes that will help ensure operators in rural America have the support required to bridge the digital divide, and prevent the chaos [that] pandemics like COVID-19 wreak on the underserved and unserved."
Such structural changes could involve how the Universal Service Fund program is funded. The authors argue that current government funding programs are insufficient to build and maintain broadband nationwide and that the current method of funding the program as a percentage of long-distance voice revenues is impractical, considering ongoing declines in voice service revenues. The Universal Broadband Act recently introduced in the House of Representatives calls for the USF to be funded as a percentage of both voice and broadband revenues. According to CoBank, a 5% USF charge applied to broadband bills would increase USF receipts by over 44%, while a 10% USF charge on broadband would almost double USF receipts, potentially covering more than one-third of the $115 billion that CoBank estimates is needed to bring high-speed broadband to most of rural America.
Opponents of expanding the contribution base argue that it would cause broadband prices to increase, potentially causing a decline in broadband adoption. But research from Berkeley Research Group commissioned by NTCA – The Rural Broadband Association found that broadband has a high level of price inelasticity and that expanding the USF copntribution base to include broadband revenues would have almost no impact on broadband subscribership. It's worth noting, though, that the Berkeley Research Group analysis did not assume a major increase in the overall size of the fund.