Indiana Fiber Network has begun a multi-million-dollar upgrade of its statewide network, which is owned by 20 small telcos in the state. The project will increase capacity and enhance reliability, said Darryl Smith, IFN vice president of operations, in an interview.
IFN got its start in 2002 and now offers data center, internet backbone and data transport services over Ethernet, DWDM and Sonet. The network has more than 4,500 route miles.
Indiana Fiber Network Upgrade
The IFN network has about 15 points of presence (POPs) and as Smith explained, the upgrade will "fortify those POPs" and will use a "hierarchical design." The principal function of the POPs today is to support access links, but the project "will turn some of them into more of an aggregation layer," he said.
Reliability enhancements will come via underlying routing protocols that will isolate the impact of disruptive events, Smith said.
The project will include several phases, of which one already has been completed. The entire project is scheduled to be completed by the end of 2019.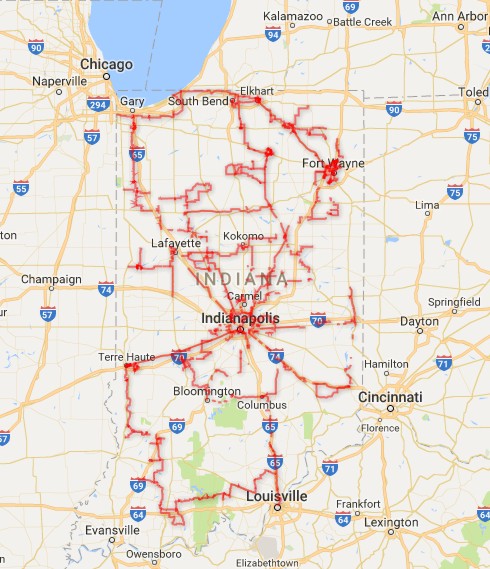 Statewide networks such as IFN have had considerable success, providing transport for small telco owners and providing access to local markets for nationwide carriers. Nationwide retailers with locations in small towns in Indiana would be prime candidates for using IFN services, for example.
Broadband Deserts
In the interview with Telecompetitor, IFN vice president of sales and marketing August Zehner described the impact that IFN can have when it brings connectivity to small communities that previously were what he called "broadband deserts."
He pointed to the example of one community where, prior to IFN's arrival, the broadband connection to the school district was so slow that network administrators had to shut down connectivity to the middle school while high school students went online to take the ICT test.
IFN works closely with local economic development organizations and with major employers, healthcare facilities, schools and libraries as it makes plans to provide connectivity to an area, Zehner noted. Some schools and libraries have been able to upgrade connectivity using funding from the Universal Service Fund (USF) E-rate program, and some healthcare organizations have done the same using funding though the USF rural healthcare program.
The newly-announced IFN upgrade is the latest in a string of upgrades to the network in recent years. In 2015, the network was upgraded to support 100 Gbps speeds after a previous expansion in 2012.
According to a press release, IFN connects more than 4,000 buildings in Indiana. The network also has agreements with other carriers to provide connectivity throughout the U.S.