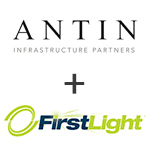 Antin Infrastructure Partners, a European-based investment firm, today entered into a definitive agreement under which it will acquire FirstLight, a fiber-optic bandwidth infrastructure services provider operating in the Northeast U.S.,  from Oak Hill Capital Partners IV. The value of the Antin FirstLight deal was not disclosed.
As we reported last April, Oak Hill had been using the FirstLight brand to make several acquisitions of smaller fiber-optic bandwidth services providers. Oak Hill bought FirstLight Fiber in September 2016, then acquired Sovernet Communications (Aug. 2016) and Finger Lakes Technologies Group (Mar. 2017), as well as Oxford Networks and ION.
FirstLight Fiber had also expanded its regional fiber broadband footprint further south in New York by adding 36,000 fiber miles into Westchester, Rockland and Orange counties just outside New York City.
Then the firm used today's deal as an exit strategy.
"We have tremendous respect for all that FirstLight has accomplished to date,"said Kevin Genieser, Antin senior partner, in a prepared statement. "We are delighted to be backing Kurt Van Wagenen and his talented team to continue the company's growth strategy, leveraging the success that Antin has had with communications and fiber investments in Europe."
FirstLight Network Map (Source: FirstLight website)The transaction is expected to close in the second half of 2018, following the satisfaction of customary closing conditions, including required regulatory approvals. The agreement has been approved by FirstLight's Board of Directors and Antin's Investment Committee.
"We are thrilled about this exciting development.  Antin is an experienced fiber investor and an ideal partner to support our growth strategy, said FirstLight president and CEO Kurt Van Wagenen, in a prepared statement. "With this acquisition, FirstLight remains well positioned to continue providing the highest levels of service and expanded offerings to enterprise and carrier customers. We are grateful to Oak Hill for the vision, support and incredible partnership we have built over the past few years."
The deal highlights growing interest in U.S. based fiber network assets by foreign investors. European-based private equity investment firm EQT is making similar deals here in the U.S. EQT purchased Lumos Networks in February 2017 for $950 million, and followed that up with the purchase of Spirit Communications in August of the same year.