In the eastern part of North Carolina operates a telephone co-op turned broadband provider that in the past five years has gone from serving just two counties to eight, nearly doubling its number of customers from 36,000 to 63,000.
"The pandemic … put a light on the need for rural broadband where it had been missing. … it showed how important internet is to everyone's lives and it pushed us to make that the focal point of what we do," explained Jody Heustess, vice president of marketing and customer care at FOCUS Broadband, in an interview with Telecompetitor.
Enabling FOCUS Broadband to develop these new markets are approximately two dozen state and federal grants it has won since 2018. In addition to securing more than $120 million in grant funding in that time period, the company invested $30 to $40 million of its own dollars in matches.
The end result is the build-out of approximately $150 million worth of grant projects from 2019 through now, and continuing over the next two years.
In addition to applying for funding through North Carolina's GREAT grant program, FOCUS also has applied for USDA ReConnect grants.
"It's a very time-consuming and arduous process, but when you win it, you're allowed to use those funds to build broadband projects that impact people's lives," Heustess said.
The growth fueled by grant wins also has impacted the company's operations. Under the helm of CEO Keith Holden, the number of people employed by FOCUS Broadband has nearly doubled to 350 people today. Service representatives, installers, repair technicians, and engineering staff were added, as well as a brand-new training department and improved business processes throughout the company.
"It's a very dynamic place even though it's a rural cooperative. We're in a dynamic business and we're a dynamic place because of that," Heustess noted.
For most of its lifespan, the company wasn't known as FOCUS Broadband. In 1955 — when the Bell System was providing telecommunications service to towns but not rural areas — the farmers and fishermen of Brunswick County, N.C., joined forces and started up a rural cooperative called the Atlantic Telephone Membership Corporation (ATMC).
About five or six years ago, ATMC began using the FOCUS brand and in 2022, the company changed its name to FOCUS Broadband.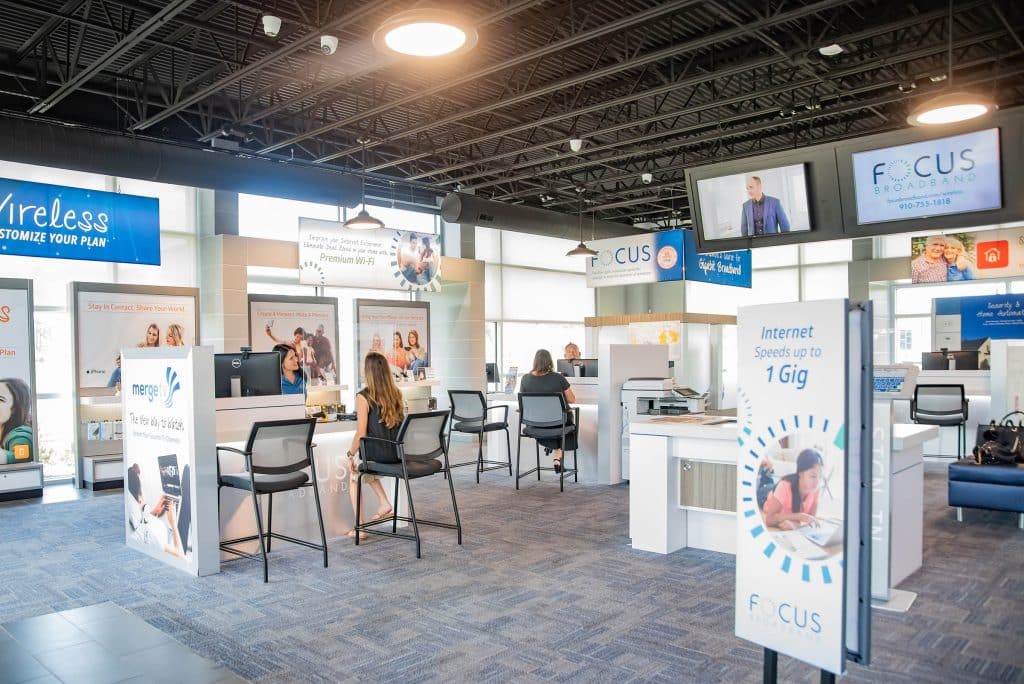 The company's headquarters and cooperative membership area are located in tourist-rich Brunswick County along the Atlantic shoreline. However, in 2019 ATMC started applying for grants and moving into more rural areas to the west.
In Brunswick County, FOCUS Broadband operates as a non-profit, member-owned cooperative. But outside of this area, it operates as a competitive local provider.
FOCUS currently provides high-speed internet — up to gigabit speeds — for 30,000 of its customers on a coax plant that was built in the 1980s for cable TV. One of FOCUS Broadband's latest endeavors is converting its cable TV customers to its new streaming video platform called MergeTV, which is a TiVo-backend streaming cable TV platform.
In 2021, FOCUS Broadband started a multi-year project of upgrading that plant to fiber. Its goal is to try to be all-fiber by around 2030, with the bulk of its customers being on fiber by 2028 or 2029.
Within its cooperative area where fiber is already available, he said eight of 10 customers sign up for gigabit broadband. The company also offers 2 Gbps and 5 Gbps service.
"Our goal is to be all-fiber and provide the very best broadband at the best price sometime within the next eight to 10 years," Heustess said. "We would like long-term to be fiber everywhere, because fiber is the best, most reliable way of providing broadband. Broadband is our future, our focus is on broadband, and we want the best there is to make that happen."