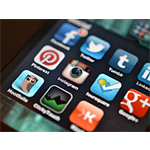 Moble app use continued on a growth path in 2016, and smartphone users spent a lot more time using them, according to the latest market data from Yahoo's Flurry. Usage of individual apps increased an average 11 percent year-over-year in 2016, while the time spent using apps surged 69 percent higher, Flurry highlights on its blog.
Flurry expanded the number of apps it tracks for its year-end 2016 study to more than 940,000 across 1.2 billion devices and 3.2 trillion sessions. In contrast to 2015, usage did not grow across all 10 categories of mobile apps Flurry monitors.
In terms of growth, Messaging & Social app usage set the pace, rising 44 percent from 2015's level. Sports app use followed closely behind at 43 percent, while Business & Finance apps rounded out 2016's leaders by posting a 25 percent growth in usage.
On the other end of the growth spectrum, use of Personalization apps plummeted 46 percent annually, that for Games apps dropped 15 percent and use of News & Magazine apps declined 5 percent.
In addition, use of Music, Media & Entertainment apps squeaked out a 1 percent annual gain.
Time Spent On Mobile Apps
The amount of time users spent using mobile apps surged 69 percent higher year-over-year in 2016, but again, growth was skewed to a greater degree in 2016 than the year before. Time spent using mobile app Games dropped 4 percent annually, while time spent using Messaging & Social Media apps soared 394 percent in 2016, Flurry's market data shows.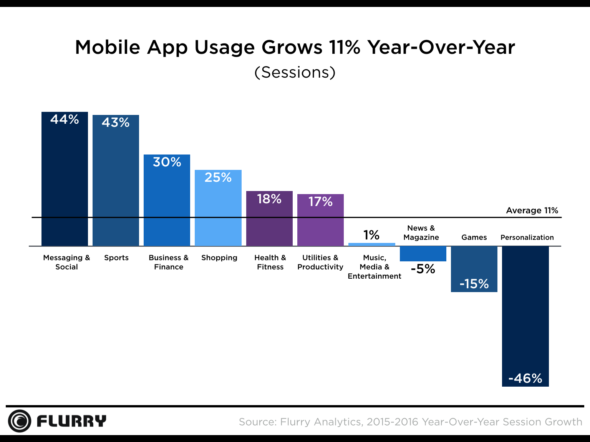 Making up the middle space, time spent on Business & Finance apps surged 43 percent higher, that for Shopping apps 31 percent and time spent using Sports apps rose 25 percent.
Digging deeper into the data, Flurry attributes the 394 percent growth in time spent on Messaging & Social Media apps to the growing habit of using these apps as voice and video calling utilities, as well as something Flurry has dubbed "communitainment" – consumption and sharing of videos, music, news and other content among friends, family and peers.
Noting the coincident decline in mobile app News & Magazine and 1 percent increase in Music, Media & Entertainment, Flurry says "it's safe to say that Social has absorbed the media industry."
Business & Finance and Sports apps, in contrast, are "sticky" by nature and immune to usage decay, Flurry points out, as they revolve around mobile activities and are fueled by real-time data. These attributes raise the prospect they will eat into the time spent watching live sports, market reports and news on TV, Flurry adds.
Gaming app usage is another kettle of fish, according to Flurry. A rising star up until recently, gaming app usage declined in 2016, although game app revenue on the Apple iStore posted strong growth.
Furthermore, growth in game app usage is contingent on emergence of "big hits," Flurry notes. Pokemon Go's star rose fast and high, but faded rapidly in 2016, while Super Mario Run was released too late in the year to have much of an impact on annual mobile app usage.
Turning to mobile app e-commerce, time spent using Shopping apps surged 31 percent higher in 2016 amidst a generally disappointing holiday shopping season for retailers, Flurry said. Researchers single out highlights from an Adobe holiday retail sales report noting that Amazon captured 38 percent of retail sales from Nov. 1-Dec. 29, with mobile and shopping apps contributing significantly.
Among smartphone form factors, "phablets" were the clear winner in 2016 with a 41 percent global market share. Their popularity is linked directly to their larger screen size, which makes for better video viewing and use of social engagement apps, Flurry notes. Researchers predict phablet market share will keep on increasing, eating away at that for smartphones with medium-size screens and completely eliminating small-screen smartphones.