The average amount of time U.S. mobile device users spend engaged with mobile app content rose another 38.5 percent between 2015 and 2016, according to Yahoo's Flurry market research unit. That follows a 108 percent increase between 2014 and 2015.
Researchers attribute this rise, in part, to a rise in communitainment — communication for the sole purpose of entertainment.
U.S. mobile device users spend over two hours a day (133 minutes) consuming mobile app media content, according to Flurry. That's over and above the time they engage in other mobile network activities, such as talking on the phone, sending and receiving emails or texts, using maps, shopping and sharing photos.
Increased viewing of mobile entertainment apps from the likes of YouTube, Netflix and Hulu, along with use of mobile social media apps, such as Facebook and Snapchat, fueled this past year's gains — and communitainment was part of that trend.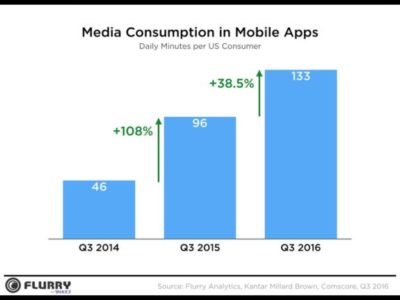 Communitainment
Mobile device users who were children when Apple introduced the first iPhone are now in their teens. With mobile phones and Internet access playing a big role in their daily lives, these teenagers – the ¨I Generation¨ as Flurry dubs them – form the largest single age group making use of mobile devices, as well as the main driver of this past year's growth in mobile app content consumption, Yahoo! SVP of published products Simon Khalaf highlights.
¨I Generation¨ mobile app usage has also led Flurry to coin the communitainment term. As Khalaf explains, communitainment is not your standard chat or exchanging pictures over social networks.
¨This is (live) streaming to entertain each other on dedicated apps like live.ly, musical.ly and Houseparty, which have been App Store Top 100 strongholds for a while.¨
Khalaf points out that many in the industry consider live streaming of communitainment a fad. Yahoo! and Flurry disagree, pointing to soaring growth in usage and other market data as evidence that a market phenomenon is taking root. Furthermore, he notes that Facebook is investing in live streaming in order to gain an early foothold in this nascent market segment.
According to Khalaf: ¨Flurry data is telling us that this trend is here to stay, and we see large communities forming around streamed content and hours spent on it. This is reality TV pushed to its limits and it's imperative for app developers to build and watch the space – no pun intended.¨
Khalaf then turns to what Yahoo! and Flurry call ¨The 76 Billion Dollar Question¨ – should mobile app developers be considered tech or media companies? The fact that mobile device users are using these apps for more than two hours a day to consume media content makes it clear they should be considered media companies, Khalaf says.
That too has deep and wide-ranging implications that are rippling across the global industry space. ¨After all,¨ he writes, ¨we are all aiming at gaining a slice of the $76B USD in ads currently locked in US television. We have been trying for the past 20 years to silo the two industries, but it's evident that the time to face the music and dance has come.¨