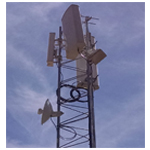 The average fixed wireless customer uses just 4 Mbps when active and uses 6.6 gigabytes (GB) of data per day for a total of 196 GB per month, according to a new report from Preseem, a company that specializes in quality of experience monitoring and optimization for wireless internet service providers (WISPs). The 4 Mbps number is not the speed of service to which the customer subscribes, which generally is higher, but rather the speed actually used.
Both the average speed and data used numbers are higher in comparison with what Preseem found in a similar report in October 2018. At that time, the average speed used was 3.5 Mbps and average monthly data usage was 167 GB.
Preseem gathered the data upon which the report is based from the networks of WISPs that use Preseem offerings.
Fixed Wireless Usage Report
Average numbers tell only part of the story about fixed wireless usage, however. As the chart below shows, Preseem found that nearly a third of subscribes used less than 1 GB of data per day, while over 11% used more than 16 GB per day.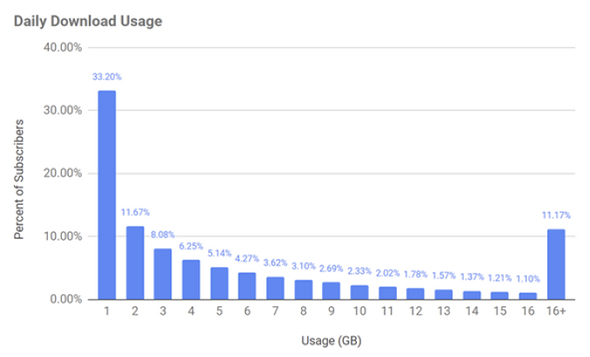 One thing that didn't change between the 2018 and 2019 reports – this year, like last, the average fixed wireless access point was serving fewer than 10 subscribers. A full 70% of access points in this year's study have less than 10 subscribers.
Also showing little change: this year and last year, the majority of access points operated over 20 MHz channels.
Other interesting findings from this year's report:
More than half of access points (50%) are less than three times oversubscribed.
Cambium and Ubiquity appear to have the largest market share among WISPs, representing 46.6% and 43.7% of subscribers to Preseem's WISP customers.
WISPs using wider channels generally use the additional spectrum to increase the number of subscribers per access point, rather than to increase the speeds offered.
Next year's Preseem report is likely to show some significant changes, as the latest generation of fixed wireless equipment supports considerably higher speeds in comparison with the current generation. By that time, we also may begin seeing the impact of the Connect America Fund CAF II auction. Many auction winners plan to use fixed wireless to bring broadband to rural areas, and many of them committed to providing speeds of at least 100 Mbps.