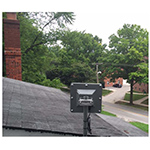 The U.S. fixed wireless market is comprised of 2,000 network operators averaging 1,200 customers each, according to a new report from analyst firm The Carmel Group. Several major companies also have announced plans to offer fixed wireless service – including Google, AT&T, Verizon and Windstream, the authors note.
The report forecasts strong growth for the U.S. fixed wireless market, which is projected to grow from more than 4 million subscribers today to 8 million by 2021.
The report contains a wide range of useful information and graphics, including details about various fixed wireless technologies, a map depicting where wireless internet service providers (WISPs) offer service and more:
The authors use the acronym BWA (broadband wireless access) for fixed wireless service, titling the report "Ready for Takeoff: The BWA Industry Report 2017." Report sponsors include the Wireless Internet Service Providers Association (WISPA),  the Wireless Communications Association and several fixed wireless service and equipment providers.
The U.S. Fixed Wireless Market
WISPs typically serve rural areas that lack higher-speed broadband options such as fiber-to-the-premises or DOCSIS offerings. Fixed wireless technology typically supports speeds of 5 to 50 Mbps, but speeds continue to rise, the report authors note.
The ideal area for fixed wireless service has 100 to 1,500 locations per square mile, according to the report.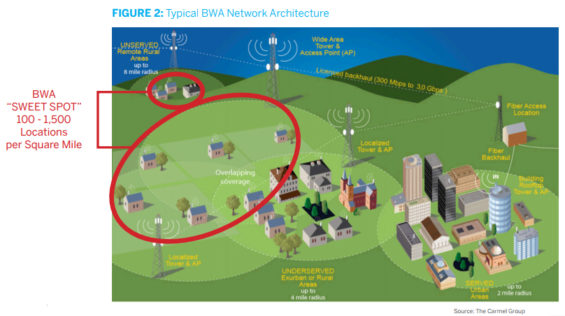 Seven factors are driving increased demand for fixed wireless service, researchers note. These include:
The economics of wireless technology enable network deployments at a fraction of the cost of wireline options.
The economics of unlicensed spectrum and trends in spectrum regulation are favorable to fixed wireless.
Consumer demand for broadband connectivity and associated applications, especially video, are surging.
Global standards-based technologies such as LTE and a growing equipment ecosystem are being leveraged for fixed wireless use.
Industry consolidation and a healthy funding environment from private and government sources are driving investment.
New entrants and hybrid networks are validating the business model.
New markets in urban areas and categories such as home automation, home security and the Internet of Things present further opportunities for fixed wireless growth.
The Carmel Group forecasts fixed wireless revenues to rise from $2.7 billion in 2017 to $5.2 billion by 2021.
Policy Issues
Some people expect fixed wireless to get a boost when spectrum in the CBRS band becomes available on a licensed and unlicensed basis – although the future of that spectrum band is in question now that CTIA – The Wireless Association has asked the FCC to change licensing rules.
Two other requests made to the FCC also could impact the future of fixed wireless. The Broadband Access Coalition has asked the commission to allow the use of spectrum between 3.7 and 4.2 GHz for fixed wireless use on a shared basis with the goal of spurring gigabit fixed wireless deployment. And Microsoft has asked the FCC to make three channels in the 600 MHz TV white spaces band available on an unlicensed basis to support fixed wireless.