A fixed wireless forecast from the Carmel Group and the Wireless Internet Service Providers Association calls for improved economics and average revenue per user (ARPU), as well as strong subscriber and revenue growth. Fixed wireless providers increasingly are using a hybrid approach in which fiber is used for backhaul connectivity and in some cases, is extended all the way to the customer to provide higher-speed service, the report notes.
The researchers use the term "fixed wireless-centric" to describe a category of service providers that use fixed wireless or a hybrid approach to provide broadband service. There are about 2,800 such providers in the U.S. today, according to the report, and the number of subscribers served by these providers is expected to increase from 6.9 million in 2020 to 12.7 million by the end of 2025.
Revenues are expected to grow from approximately $4.4 billion in 2020 to $10.9 billion over the same time period, according to the fixed wireless forecast.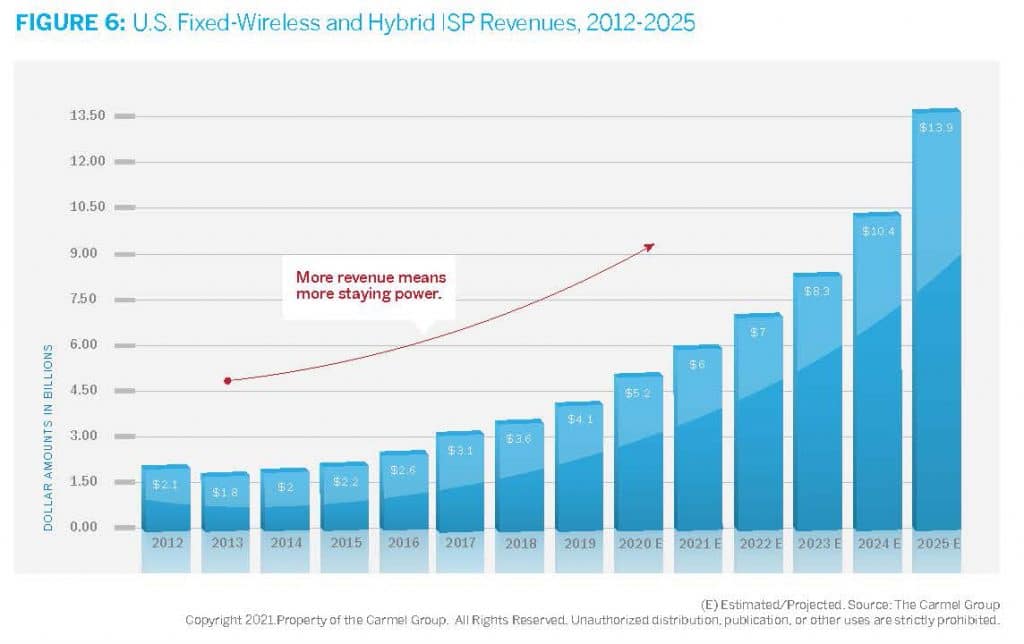 Improvements in average revenue per user (ARPU) will help fuel revenue growth, according to the report. The researchers expect to see ARPU increase from an estimated $57 in 2020 to $79 in 2025.
"The combination of better spectrum access, technological upgrades to equipment and provision of multiple ancillary services is driving the ARPU estimates," the report notes.
Fixed Wireless Forecast Drivers
Several key trends are driving Carmel Group/WISPA's bullish fixed wireless forecast, including:
Favorable economics in comparison with other broadband options. The researchers estimate that 575 vendors currently supply fixed wireless providers, which should help drive costs down
Strong consumer demand
Favorable policy
Improving technologies and more competition. The researchers estimate that it costs less than $500 on average to connect a fixed wireless customer versus $4,500 to connect a fiber subscriber
Funding flows have increased from both public and private sources
Fixed wireless providers continue to face key challenges, however, the fixed wireless forecast report notes. According to the report, these include:
Competition, including from low earth orbit (LEO) satellite providers
While some large broadband providers own valuable vertical assets (for example, AT&T's ownership of Warner Media and Comcast's ownership of NBCUniversal), fixed wireless providers lack this competitive edge
Spectrum challenges, particularly for providers that rely on unlicensed spectrum and may encounter spectrum degradation and interference
Government processes that may favor larger companies that are more familiar to policy makers
Funding may be difficult to obtain for smaller WISPs, who also may be less willing and able to obtain government funding sources pursued by electric and telephone cooperatives for fiber broadband networks