As roughly half of U.S. states consider a FirstNet opt out or opt in decision, considerable confusion has arisen about states' options – confusion resulting, some say, from pressure tactics applied by FirstNet, the government entity created to administer the nationwide mobile broadband public safety network that carries the same name.
Concerns also have arisen about whether AT&T will build out the spectrum leased to the company to support FirstNet to the extent that many anticipated. Meanwhile, Verizon is advising individual public safety entities that they can continue to use their current communications provider, even if their state chooses AT&T to build the public safety network in that state, raising questions about whether public safety users choosing that option would be able to interoperate with FirstNet users.
The House Subcommittee on Communications and Technology may address these issues in a hearing  later this week. In the meantime, Telecompetitor in recent days has talked and exchanged email messages with AT&T, FirstNet, Verizon, and Wireless 20/20, a consulting firm that has raised a range of concerns about FirstNet. Here's what we learned.
FirstNet Opt Out
FirstNet chose AT&T as the primary network operator to build the FirstNet network but individual states have until December 28 to decide whether to have AT&T build the network in their state or opt out, in which case the state would choose a different company to build and operate the network in that state. At least 27 states and territories have opted in and no state has opted out, but according to a white paper from consulting firm Wireless 20/20 at least 18 are considering that possibility.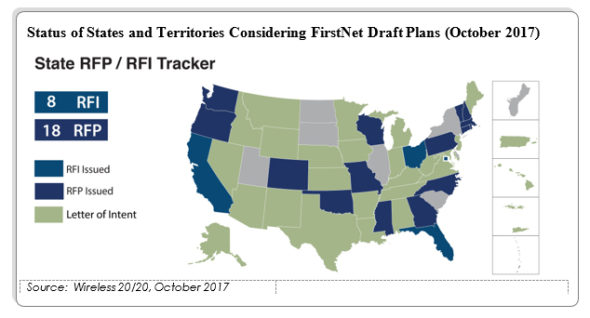 "A lot of scare tactics are being used to discourage states from opting out," Berge Ayvazian, senior analyst and consultant for Wireless 20/20 told Telecompetitor. "The states are just completely freaked out." (Wireless 20/20 has numerous carriers as clients and has been following plans for a nationwide public safety network for years, Ayvazian said.)
FirstNet's scare tactics, he said, include threatening states with penalties and/or fines if they opt out of having AT&T build their statewide public safety network but do not select an alternative provider within a specific timeframe. According to Ayvazian, the penalties and/or fines quoted to some states exceed the cost of the public safety network infrastructure for the state.
In response to an inquiry from Telecompetitor about this, a FirstNet spokesperson referred us to a new FirstNet web page, which suggests that penalties would apply only if a state-built (rather than AT&T-built) radio access network fails over the next 25 years. Under this scenario, the state would be required "to pay the full costs of reconstituting the RAN [radio access network] in the state and operating it for the remainder of the agreement's term," the web page states.
FirstNet also states that it "has provided estimates of these potential costs to the states to promote transparency and increase their understanding of the significant responsibility of deploying, operating and maintaining the RAN." The estimates, according to FirstNet, "reflect building and operating a new Band 14 RAN for the remainder of the [25-year spectrum lease agreement between FirstNet and the state] given the likely technical, operational and financial complications that a new provider would face in reusing any components from a failed RAN and the significant ongoing RAN operating costs."
AT&T Buildout Plans
States opting to have AT&T build their public safety network will gain immediate access to AT&T's commercial network and don't have wait for construction of the public safety network operating in the 20 MHz of FirstNet spectrum known as Band 14. According to FirstNet, AT&T's commercial network is expected to support preemption by public safety users by the end of the year.
But according to Wireless 20/20, there's a downside to that plan. A recent Wireless 20/20 white paper states that AT&T will deploy infrastructure in the FirstNet spectrum only where it needs more bandwidth than its traditional network can provide. Wireless 20/20 estimates that if all goes as planned, the AT&T first responder network in the FirstNet band, known as Band 14, will cover only 76.2% of the continental U.S.
An AT&T spokesperson stopped short of denying this. Instead, the spokesperson stated that "We plan to build out Band 14 throughout the country, aggressively rolling it out to give public safety the coverage and capacity they need," the spokesperson said in an email to Telecompetitor asking about Wireless 20/20's charges. "With the FirstNet plan we put forward, the magic of FirstNet will happen across all of AT&T's LTE bands, giving public safety access to the coverage and capacity they need when and where they need it."
The spokesperson went on to say that "should AT&T have the honor to build all 56 RANs in the states and territories, we estimate that by combining our network with additional satellite technology, we'll have over 99% of the population covered and the ability to cover nearly 100% of geography."
"Our network" means AT&T's combined Band 14 and non-Band 14 networks, the spokesperson said.
Verizon Weighs In
A Verizon spokesperson told Telecompetitor recently that the company currently has two-thirds of the public safety network nationwide. Not surprisingly, the company is making efforts to retain as much of that business as it can as AT&T moves ahead on FirstNet.
In a blog post  last week, a Verizon executive said the following: "FirstNet does not require public safety agencies to use the FirstNet solution, even if their state opts in to FirstNet. Police departments, local governments, [and] fire stations can make their own choice when it comes to communications solutions and services regardless of their state's decision. In short, if you like your provider, you can keep your provider."
Verizon noted in a previous blog post that it plans to make available multi-band devices available to public safety users that "will provide access to Band 14 spectrum and enable full interoperability with any Band 14 radio access networks (RANs) deployed by FirstNet."
How a first responder purchasing service from Verizon would get onto a Band 14 RAN operated by AT&T or another carrier is not clear, however. Traditionally, carriers establish interconnectivity agreements with one another specifying how they will compensate one another for the use of one another's networks – and it is not clear whether AT&T or another company offering service on Band 14 will be willing or required to enter into an agreement with Verizon or any other carrier that doesn't have a Band 14 network, at least not everywhere.
The Verizon spokesperson did not answer a question from Telecompetitor about whether the company has made bids to build the public safety RAN in states that are considering a FirstNet opt out decision – although, according to Wireless 20/20, Verizon has made a bid in at least one state. Other companies bidding in one or more states include Rivada Networks and others.
AT&T's vision for the public safety network calls for all statewide RANs to connect to a core FirstNet network operated by AT&T, even if the state doesn't choose AT&T to build its RAN. But Verizon has said it plans to build and operate its own public safety network core and in July the company asked the FCC to state whether individual states could use a core network other than the one AT&T is building to support the public safety network in that state.
In a third blog post, Verizon said its public safety core network would not need to interconnect with the one operated by AT&T. Interoperability between the networks could be achieved as long as Verizon's core network could connect to data centers operated by FirstNet, Verizon said. This approach would give first responders a second network to fall back on, the company noted. Whether or not FirstNet data centers will be required to connect to the Verizon core public safety network is another gray area, however.
"Interoperability is definitely achievable, as long as both network providers agree to make it happen," the Verizon spokesperson said in an email. "And if providing public safety with the best possible communications network solution is everyone's shared goal, ensuring interoperability should also be everyone's shared goal."