A new FirstNet visual identity was unveiled by AT&T today. It marks the next phase of the FirstNet initiative, with all 50 states, the District of Columbia, and 5 U.S. territories now all on board.
The process has taken considerable time, and has not been without controversy. FirstNet, or a nationwide interoperable public safety network, was first envisioned shortly after the 9/11 terrorist attacks in New York, Pennsylvania, and Washington D.C. in 2001. This new FirstNet identity and the actual network construction begins some 17 years later, although the actual legislation authorizing FirstNet passed in 2012.
"FirstNet grew from a recommendation made by the 9/11 Commission into a vision championed by public safety for years," said Chris Sambar, senior vice president, AT&T – FirstNet in a blog post. "That vision was advanced by Congress and carried out by the First Responder Network Authority. Now, with all 50 states, 5 territories and D.C. on board, it's become a reality."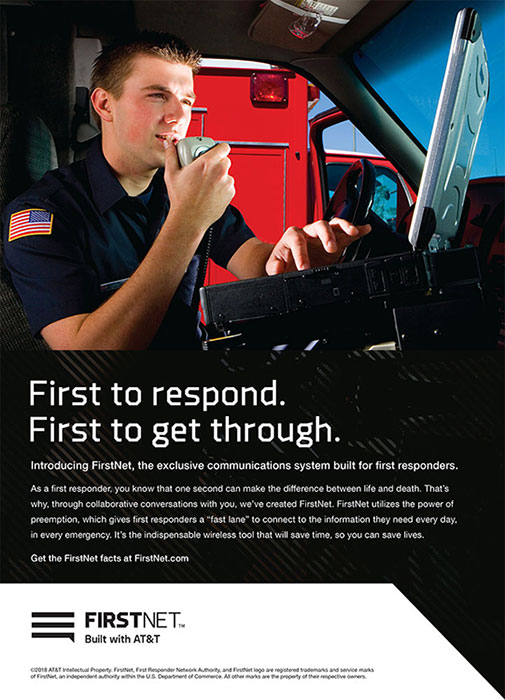 Sambar explains the new FirstNet visual identity in this manner:
Symbol – 3 horizontal lines represent the distinct but interconnected disciplines of public safety. They're united in communications, symbolized by a notch in the lower right corner. This forms a speech bubble that signifies seamless communication and harmonious interoperation for first responders nationwide.
Wordmark – FIRSTNET. We've bolded "first" to show that this network is, first and foremost, a solution for first responders. The technology will never be more important than the first responders it benefits. This platform belongs to them. They fought for it, and they will continue to guide its development. Plus, they'll always be first in line for service.
Attribution – "Built with AT&T." We chose each word carefully to reflect the brand's commitment to public safety.

Built: This is a new effort, new solution and new network that is purpose-built for first responders. It's the only communications platform dedicated to public safety. And there's nothing else like it in the market.
With: Collaboration with first responders will always be our foundation.
AT&T: This is a solution built with the expertise of the nation's largest and most reliable network provider. So, first responders can rely on it for their technology and communications needs.
Now the hard work begins on constructing the $46 billion wireless broadband network, which gives first responders priority in emergencies but also allows AT&T to use the network for capacity during non-emergencies. Elements of FirstNet, including preemption for first responders on AT&T's network are available now.