A Reddit forum for SpaceX's Starlink has revealed the first speeds for the new satellite broadband service. SpaceX has already launched hundreds of low earth orbit (LEO) satellites that will power this next generation satellite broadband service.
The speeds look promising, but we must recognize that Starlink is in pre-beta, so speeds always look impressive when at this stage of a deployment. Using the Ookla Speedtest app, Starlink beta users found speeds as high as 60 Mbps downstream and 17.7 Mbps upstream. Latency was as low as 31 milliseconds.
Speeds ranged from 36 Mbps to 60 Mbps on the download and 5 Mbps to 17.7 Mbps on the upload.
Starlink recently started inviting beta users for the service. Pricing for the service has not yet been revealed. The beta service is free, except for a $1 billing system charge. Interestingly, beta users are supposed to sign an NDA, according to an Inverse report. The Reddit forum Starlink speed reveal may have violated that NDA, and it may be taken down as a result.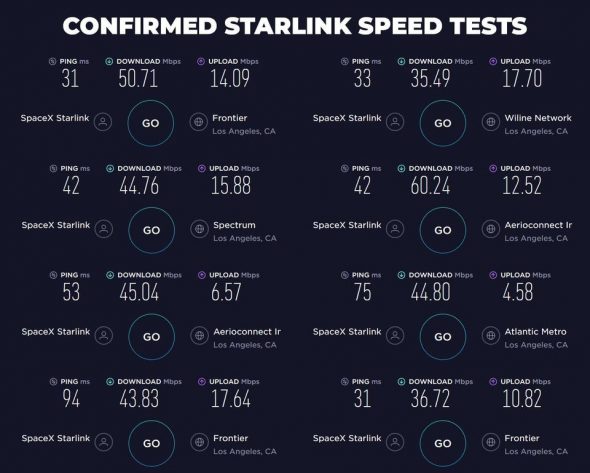 Coverage is currently limited to the Northern region of the U.S. and the southern region of Canada. The Reddit forum featured Starlink speeds appear to be from beta users in the state of Washington.
SpaceX has big plans for Starlink. It eventually plans to put thousands of LEO satellites in orbit, presumably offering nationwide coverage for broadband. LEO-based satellite broadband provides better broadband performance than traditional satellite broadband, which uses satellites at much higher geostationary orbit.
SpaceX is hoping the USF program will help fund its growth plans. The company aims to participate in the upcoming RDOF auction. SpaceX isn't alone in the LEO satellite broadband space race. Amazon and others are joining them.
It's very early in this new satellite broadband era. As impressive as some might think the early Starlink speeds are (or not impressive, depending on your perspective), there are many questions about the viability of LEO-based satellite broadband over the long term. There is no shortage of skeptics.
It's certainly going to be interesting to watch though.
Thumbnail Image courtesy of flickr user Official SpaceX Photos.