The cost to the federal government to bring fiber broadband to every U.S. household that NTIA considers "unserved" or "underserved" would be approximately $230 billion, according to a study from fixed wireless equipment provider Tarana Wireless, which gave Telecompetitor an exclusive first look at the study. That's more than five times the funding that the government has earmarked for broadband deployments in the BEAD and RDOF programs, the study notes.
The $230 billion estimate is the amount of funding needing after factoring in the 25% matching funds that network operators are required to contribute to project costs, Tarana said.
The BEAD program defines areas lacking reliable service at speeds of at least 25/3 Mbps as "unserved," while those lacking service at speeds of at least 100/20 Mbps are considered "underserved."
Guidelines for the BEAD program established by the NTIA require funding recipients to deploy fiber unless the cost per location exceeds the extremely high cost per location threshold or for "other valid reasons."
Tarana and other fixed wireless stakeholders are hoping that states will seek waivers of the requirement to deploy fiber broadband so that they can direct funding to less costly fixed wireless builds, thereby reaching more people.
In the absence of those waivers, "we will run out of money and will not be [addressing] the Digital Divide today because of how long it takes to lay all that fiber," said Carl Guardino, vice president of government affairs for Tarana, in an interview with Telecompetitor.
Tarana Analysis
Tarana estimated fiber deployment costs based on an analysis of 132 fiber broadband deployments that received funding through state-level programs in five states – Alabama, California, Michigan, Nebraska and Virginia. The goal was to select a group of states that would be representative of deployment costs nationwide.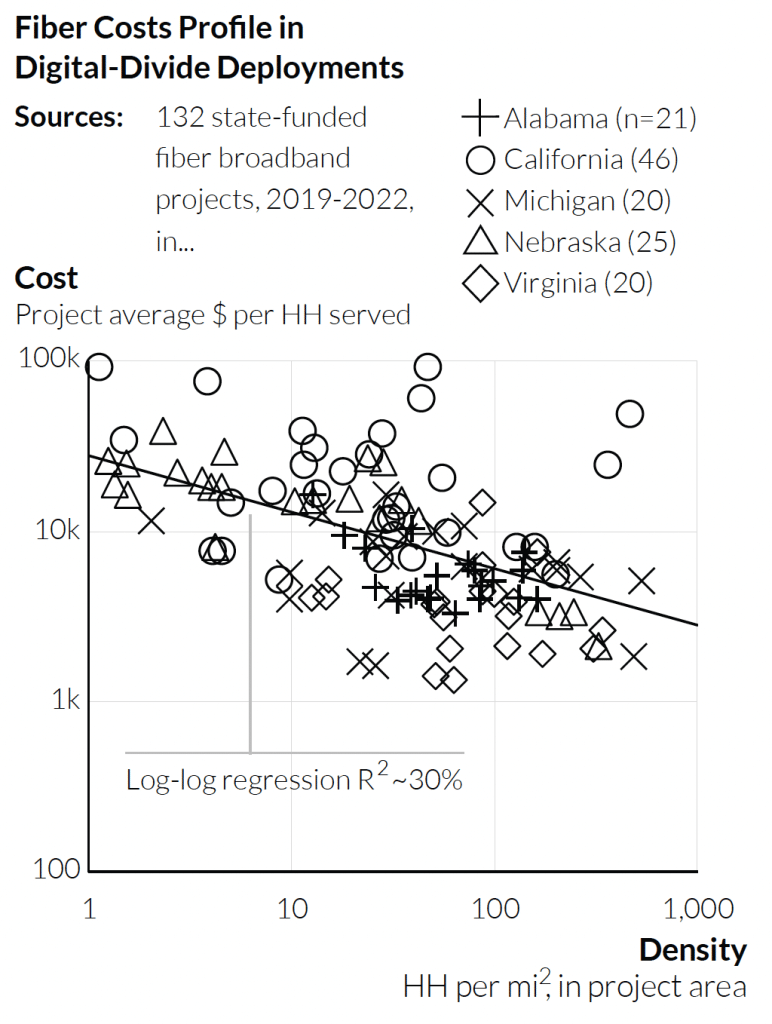 According to Tarana Wireless Vice President of Marketing Steve Glapa, projects were selected on a randomized basis except in states in which the number of projects funded was so small that all projects could be included. Using this data, Tarana estimated the average cost to pass and to serve homes based on household density per square mile.
Tarana used FCC data to estimate that just over 7% of U.S. households are unserved, based on the NTIA BEAD definition. An additional 4.1% are underserved. Tarana increased these numbers by 10% to estimate the final tally of BEAD-eligible locations after challenges to the data are addressed. This yielded an estimate of 16 million U.S. homes that are either unserved or underserved.
Researchers also estimated how many unserved homes were in each of several population density categories based on the 132-project sample. The researchers then multiplied those numbers by the average costs to deploy service to homes in each category and then deducted 25%– the portion of project costs that must be paid by network operators. This calculation yielded the overall cost of $230 billion in government funding required to make fiber broadband available to all unserved and underserved homes.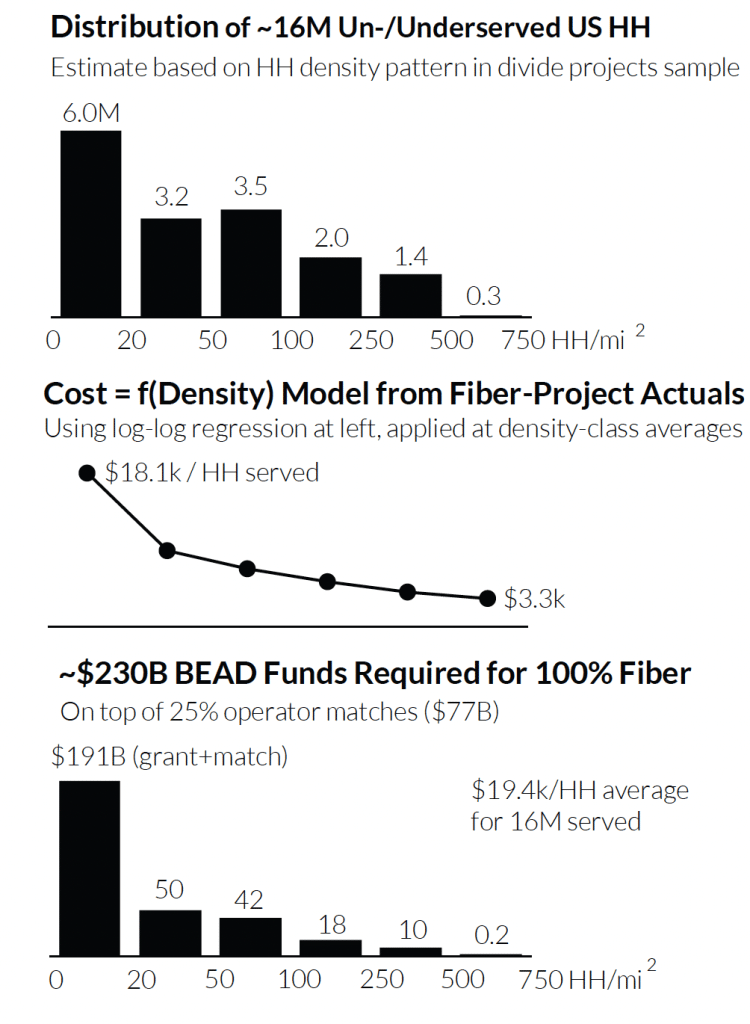 Unserved Locations Have Priority
It's worth noting that BEAD rules call for states to award funding to reach all unserved locations before making any funding available for underserved locations. Nevertheless, Tarana's analysis suggests that the $42.5 billion allotted to BEAD plus several billion dollars that have not yet been awarded in the RDOF program would be insufficient even to reach only the unserved locations with fiber.
And many stakeholders would argue that, considering growing bandwidth demands, it's more appropriate to target those lacking service at speeds above 100/20 Mbps.
Some states are concerned about these issues, said Guardino, adding that Tarana has been hearing from some state broadband offices that they plan to fight for the ability to fund more fixed wireless deployments.
"States can define what is high cost as they try to leverage limited dollars," he said. "They know as state leaders what their local communities need."
It's worth noting that a different study from Cartesian for provider association ACA Connects concluded that there is enough funding in the BEAD program to meet BEAD deployment goals. One difference in methodology is that the Cartesian analysis was based on a smaller number of eligible locations. The Cartesian analysis also assumed providers would contribute a higher percentage of matching funds in some scenarios and it endeavored to estimate the impact of extremely high cost areas, where providers are allowed to deploy technologies other than fiber.