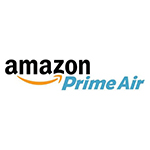 A commercial first happened in England last week, when the first Amazon drone delivery of a package took place. Amazon's Prime Air is a new drone delivery service that the e-commerce giant hopes to expand dramatically in the coming years, allowing an online order to be delivered to customers within minutes of being placed.
This first Amazon drone delivery, which occurred Dec. 7th, was announced via a tweet from Amazon CEO Jeff Bezos. A customer in England ordered an Amazon Fire TV stick and a bag of popcorn. After hitting submit, a package containing his order was delivered to his home, via drone, in 13 minutes.
Amazon is targeting the Cambridge region of England to launch and test Prime Air, thanks to a drone test flight zone established there by English aviation authorities. The below video explains this first ever Amazon drone delivery.
First Amazon Drone Delivery
The drone was launched from a nearby fulfillment center and dropped in the yard of the Amazon customer. The video narration suggests a growing trial of Prime Air in England, reaching dozens of customers and growing to hundreds more soon.
The video highlights an emerging application for IoT and 5G. The drone flight was completely automated – there is no human flying or controlling the drone (although the rules in England say a drone pilot needs to be at the ready in case he or she has to take over). The drone relies on GPS and other factors to complete the transaction.
While very restricted today, thanks to both immature technologies and restrictions on drone flights, this type of drone/IoT application holds great promise for the future. The possibilities are pretty dramatic, given the amount of deliveries for commerce that now take place, not to mention the other applications for getting things from point A to point B.
This and other IoT applications are a key driver for the development of 5G. Once all the standards are worked out and 5G networks are in place (think early 2020s), drone deliveries will accelerate thanks to a 5G wireless infrastructure that enables it across metro, suburban, and even rural territories.
Amazon appears to be a leader in the space, but they are not alone. Google is currently experimenting with, wait for it….the delivery of burritos via drone on college campuses.