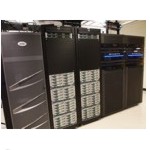 A recent article in the Denver Business Journal highlights the cloud computing opportunity for telecom providers. You've no doubt seen the term "cloud" appear just about everywhere you'd find infrastructure mentioned. Anything as a Service (XaaS) runs the gamut from storage to applications to raw computing power.
As a result, the same way AOL dialup got a lot of telecom providers into the ISP business we now find Amazon, Rackspace, and other "cloud" services putting pressure on telecom service providers to get their own "cloud" to retain subscriber relationships. Getting to a cloud solution has been a challenge since hype has proceeded shipping products. In fact, even data savvy shops like Verizon only just announced their own cloud service last year.
At IP Possibilities 2010, there was a cloud workshop in addition to a panel on cloud computing strategies. Most attendees were aware of the benefits of virtualization. During and after the panel, a common audience question revolved around how to get into the market and put cloud solutions within their own data centers. Considering the network computer was heralded in 1997 as the salvation to all our problems, it's understandable if skepticism and trepidation exist around getting into cloud services.
What has fundamentally changed since 1997? One word: Enough.
The early network computers on display on the floor of the Internet World Fall 1997 from Oracle and others were connected with 10 Mbps Ethernet hubs. Did it work? Generally speaking, the demonstrations worked but it was also about the notion of hoteling and taking your desktop experience with you no matter where you moved in the office, the branches, or corporate. Sun displayed Sun Ray systems that were actually glorified X Terminal for the demonstration but would later delivery on truly virtual desktop ambitions to a certain degree.
Fast forwarding to today, the advances in broadband and connection-oriented approaches to Internet services are evident. LAN speed applications are coming to fiber connected homes and, to some degree, a mobile audience. Subscribers are demanding more bandwidth and it is the direct result of the experience they desire with cloud based services.
Also, consider that most of the computing power in those heady days now fits in your pocket — and can (sometimes) complete a phone call. In addition, the form factor of those early network computers has given rise to book sized devices, netbooks, and now tablets. In each case, an increasing majority of the content accessed from those devices is from a cloud based service.
Finally, consider that companies such as Cisco, EMC, and VMWare are shipping private cloud solutions that take into account all the prior art and best practices to make "private cloud" a viable service offering. Servers, network, and storage are being taken as a whole instead of a piece parts approach. For the service provider, the availability of a turnkey private cloud changes how advanced services will be delivered from this point forward in your data center and Internet services strategy.