Telcos that have been deploying fiber broadband are having a moment in the sun, finally reversing years of broadband subscriber losses to the cable companies. But will this last?
What has given telcos an edge is fiber broadband's ability to support gigabit and even multi-gigabit speeds bi-directionally. With traditional technology, cable companies can offer gigabit and multi-gigabit speeds but only in the downstream direction. Upstream speeds sometimes top out at just 20 Mbps.
All that is set to change, though. Telecompetitor talked recently with Curtis Knittle, vice president of wired technologies for Cablelabs, about the technology that's coming soon for cable. Upstream speeds are poised to get a lot faster – maybe not fully symmetrical, but probably fast enough for most consumers.
Perhaps of greater concern, it's still a lot easier to upgrade cable hybrid fiber coax (HFC) infrastructure than it is to replace telco copper with fiber. (HFC networks use fiber networks from the cable company headend to a node where signals are converted to coaxial cable for delivery to customer locations.)
To maximize speeds, cable companies will be deploying DOCSIS 4.0, the next generation of the DOCSIS standard. They also will be deploying, and in some cases already have deployed, distributed access architecture (DAA). In addition, the cable companies are expanding the amount of spectrum that is available for use within the coaxial portion of the link and making more of that spectrum available for upstream communications.
Here's what we learned from Cablelabs about all this.
DOCSIS 4.0 and DAA
When we talked to Knittle last month, production silicon supporting the DOCSIS 4.0 standard was expected soon. Cablelabs is getting set to certify devices and Knittle expects to see "wide-scale" deployments of the technology beginning later this year.
Another key upgrade is the use of distributed access architecture (DAA), which as Knittle explained, involves "moving intelligence to the edge" using Remote PHY and Remote MAC PHY devices.
Those devices are installed in the node where optical transmissions are converted to coax. They improve the signal-to-noise ratio (SNR), enabling the cable network operator to boost speeds and capacity.
"Between those devices and the hub, we've converted to digital optics in the form of Ethernet – 10 Gig Ethernet or 25 Gig Ethernet," Knittle said.
Putting it another way, he said, "distributed access architecture is defined by digital optics and RF generation at the edge."
It's worth noting that some cable companies have been deploying DAA for several years as it provides benefits even with current generation DOCSIS 3.1 equipment.
High-Splits, Etc.
For years, cable companies relied on no more than 860 MHz of spectrum within the coaxial portion of their HFC networks. Increasing that spectrum can boost speeds.
Many cable companies are opting to expand the useable spectrum to 1.2 GHz or even 1.8 GHz and to expand the portion of the band used for upstream communications.
As they expand spectrum, Charter and some other companies plan to use what Cablelabs calls "high splits." With this approach, the amount of spectrum available for upstream bandwidth is greater than in the past but is still considerably less than what is available for downstream communications.
For example, Charter says it expects to support speeds up to 5 Gbps downstream using DOCSIS 4.0 modems with 1.2 GHz of spectrum and high splits. The company expects to support speeds up to 10 Gbps downstream using DOCSIS 4.0 with 1.8 GHz of spectrum. In either case, upstream speeds will be 1 Gbps.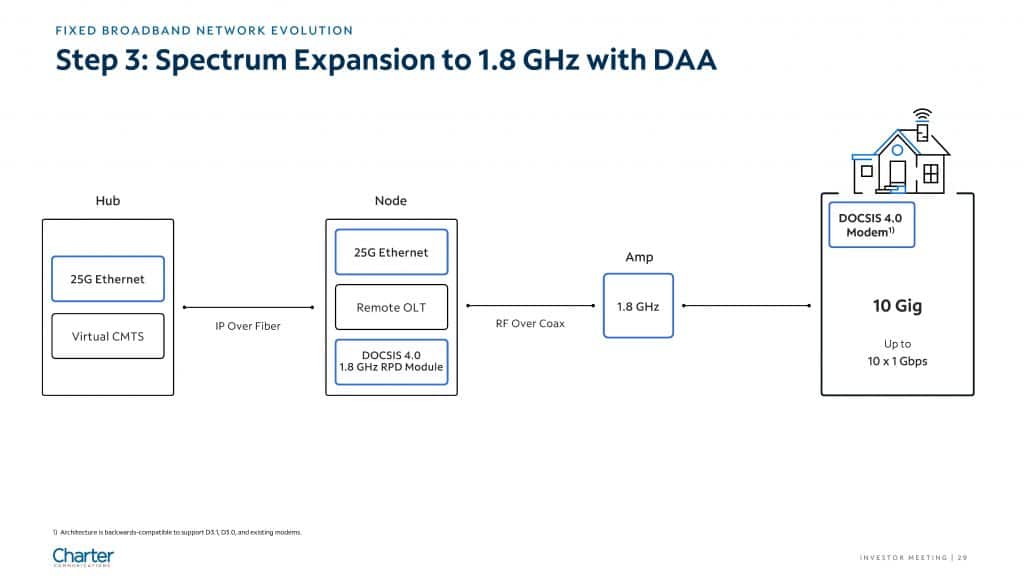 It's worth noting that Charter's target speeds may not represent the maximum speeds that the technology can support. Instead, they are the speeds that the company sees as appropriate in today's market.
One cable operator – Comcast—is making a different choice as it expands spectrum. It will be using a full duplex approach.
With a full duplex approach, the total amount of spectrum available within the coaxial portion of the link will be 1.2 GHz. The key difference is that a large portion of the spectrum will be available for either upstream or downstream communications, which means that Comcast will be able to offer higher upstream speeds.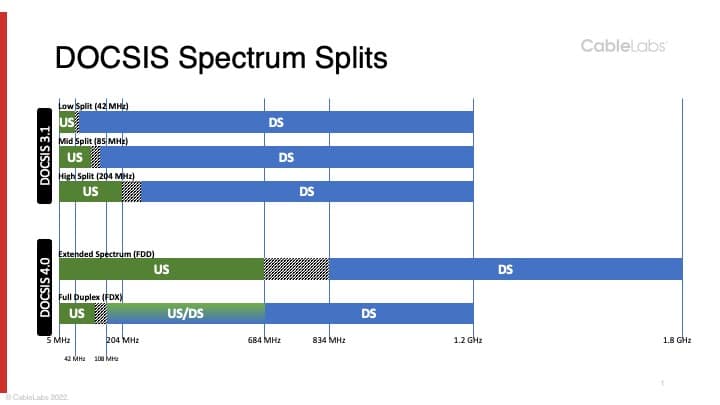 Comcast says it has achieved speeds of 6 Gbps downstream and 4 Gbps upstream using full duplex DOCSIS 4.0 in a real-world test. The company expects to be able to replicate that across a large part of its network without taking fiber deeper into the network beginning later this year.
It's important to note that the speeds that Comcast has been able to achieve do not necessarily represent the speeds that the company plans to offer. The company has not been forthcoming with details there.
It's also important to note that, as with DAA, cable companies already have been expanding spectrum overall and on the upstream, and as they do, those moves also provide advantages even with current generation DOCSIS 3.1 equipment.
Fast Upgrades
Charter recently announced plans to upgrade its entire serving area by 2025.
Not everyone will get DOCSIS 4.0. The company plans to do its upgrade in three stages, with different elements of the technologies we've discussed implemented at each stage.
As the upgrades are completed, 15% of the company's customers will be able to get speeds of 2/1 Gbps, 50% will be able to get speeds of 5/1 Gbps and 35% will be able to get speeds of 10/1 Gbps.
Comcast expects to upgrade its entire customer base to DOCSIS 4.0 by 2025.
For telcos, the process of upgrading existing DSL networks to fiber broadband takes longer and, in some cases, the upgrade to fiber may not be cost-effective. Charter is targeting $100 per location for its upgrade plans and, according to financial analysts at SVB MoffettNathanson, Comcast is targeting $200 per location. Upgrading DSL networks to fiber is considerably more costly.
It's worth noting that when cable companies expand to areas they never served previously, they are deploying fiber broadband. And as companies like Charter and Comcast pursue projects in unserved and underserved rural areas — projects funded, in part, through government programs — we'll see them use fiber there, too.
We also may see them selectively upgrade some of their existing infrastructure to fiber broadband.
Nevertheless, their current HFC infrastructure may soon be a lot more competitive than it has been in the last year or two. And it could remain that way for quite some time.
Updated to change MoffettNathanson to SVB MoffettNathanson and to state that deploying DAA improves the signal-to-noise ratio