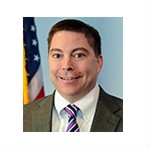 As lawmakers consider making new funding available for infrastructure initiatives, which could include broadband, FCC Commissioner Michael O'Rielly argued in a blog post today that any new federal broadband funding should be directed to the high-cost Universal Service Fund (USF) program. In the blog post, O'Rielly argued against other approaches that might be taken, such as creating something akin to the broadband stimulus program of 2009 or putting responsibility for broadband buildout in government hands.
The USF high-cost program "can be extended quickly with existing agency personnel, resources and oversight, whereas creating new programs within other agencies would require rebuilding that infrastructure and accountability, adding time and expense," O'Rielly wrote.
New Federal Broadband Funding
The idea that new federal broadband funding might become available stems from President Trump's call for new infrastructure investment which, in turn, spurred a request from Democratic lawmakers for $1 trillion for infrastructure initiatives, including broadband.
The call for new federal broadband funding comes at a time when the traditional USF high-cost program faces a budget shortfall that, according to one estimate, is currently in the range of $210 million annually – a situation that O'Rielly references in his blog post.
"Because the program is oversubscribed within the current budget there is room to inject funding without causing dramatic changes or jeopardizing its operation," O'Rielly argued.
If instead new funding were to be directed to something similar to the broadband stimulus program, there would be a danger that the funding could distort the market, O'Rielly said. When any single provider received special funding through the stimulus program, it "distorted the ability of non-recipients to operate, pay off debt, raise capital, and satisfy consumer interest," he said.
Artificially propping up select companies through a process in which bureaucrats picked winners and losers "impacted the ability of others to compete, including growing their networks to unserved and underserved areas, and that doesn't even include a critique of where grants were provided to overbuild existing providers," O'Rielly wrote.
O'Rielly also noted that the high-cost USF program is designed to limit any subsidy provided to broadband companies to only what is absolutely needed to promote access – a characteristic that other strategic options might not offer and that could be difficult to replicate.
O'Rielly also took the opportunity to call attention to an initiative he has continued to champion – the long-awaited but still unresolved remote areas fund. "Sadly, I have visited parts of America that are without any option for broadband service," he said. "Getting to work on the FCC's remote areas fund, as I have called for over the past three years, would be a step in the right direction."
Readers may disagree with some of the points that O'Rielly makes in his blog post. He argues, for example, that "ultra-fast residential service is a novelty" – even though an AT&T exec reportedly said just a few days ago that 30% of customers are taking gigabit service in areas where it is available.
Overall, however, I think O'Rielly makes some persuasive arguments. At a minimum, I think readers will agree that top priorities for any new federal broadband funding should include making up the budget shortfall in the high-cost program and getting a fully-funded remote areas program off the ground.