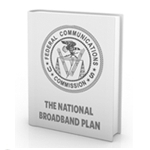 The National Broadband Plan, to be released today, focuses on four ways government can help ensure that every American has access to broadband. These include, 1) designing policies to ensure competition; 2) ensuring efficient management of assets such as spectrum and rights of way; 3) reforming the Universal Service Fund to support broadband; and 4) reforming policies to maximize the benefits of broadband in government-influenced sectors. Such sectors include education, health care and government operations.
According to a FCC broadband plan executive summary released yesterday, the plan also will establish six longer-term goals "to serve as a compass over the next decade." These include:
Connect 100 million households to affordable 100-megabits-per-second service, building the world's largest market of high-speed broadband users and ensuring that new jobs and businesses are created in America.
Affordable access in every American community to ultra-high-speed broadband of at least 1 gigabit per second at anchor institutions such as schools, hospitals, and military installations so that America is hosting the experiments that produce tomorrow's ideas and industries.
Ensure that the United States is leading the world in mobile innovation by making 500 megahertz of spectrum newly available for licensed and unlicensed use.
Move our adoption rates from roughly 65 percent to more than 90 percent and make sure that every child in America is digitally literate by the time he or she leaves high school.
Bring affordable broadband to rural communities, schools, libraries, and vulnerable populations by transitioning existing Universal Service Fund support from yesterday's analog technologies to tomorrow's digital infrastructure.
Promote competition across the broadband ecosystem by ensuring greater transparency, removing barriers to entry, and conducting market-based analysis with quality data on price, speed, and availability.
Enhance the safety of the American people by providing every first responder with access to a nationwide, wireless, interoperable public safety network.
"The National Broadband Plan is a 21st century roadmap to spur economic growth and investment, create jobs, educate our children, protect our citizens and engage in our democracy," said FCC Chairman Julius Genachowski in announcing the delivery of the plan to Congress. "It's an action plan, and action is necessary to meet the challenges of global competitiveness and harness the power of broadband to help address so many vital national issues."
In the coming weeks, we plan to offer much more detail about this plan and its implications fro broadband carriers, large and small. Stay tuned.