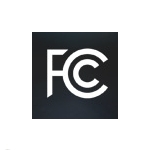 The nation's four largest wireless service providers – AT&T, Sprint, T-Mobile and Verizon—had a combined market share of 98.5% as of year-end 2014, leaving all other wireless providers combined with only 1.5% of the market, according to a report released in late December by the FCC. In comparison, the top four providers controlled only about two-thirds of the market in 2003.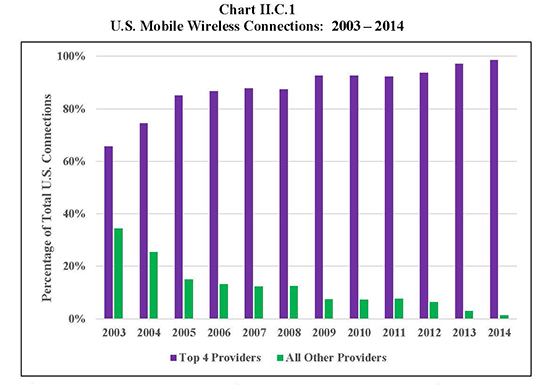 The revelation comes at a time when wireless competition among the top four carriers has accelerated. Two years ago AT&T and Verizon had made substantial gains at the expense of smaller rivals T-Mobile and Sprint but aggressive moves by the smaller carriers have changed that picture, with T-Mobile in particular making strong market share gains.
Nevertheless the FCC stopped short of calling today's wireless market a competitive one – a decision that may have been made, in part, because of the shrinking of the tier two and tier three marketplace. "Given the complexity of the various inter-related segments and services within the mobile wireless ecosystem, any single conclusion regarding the effectiveness of competition would be incomplete and possibly misleading in light of the complexities we observe," the FCC wrote in its eighteenth report on wireless competition.
The FCC Wireless Competition Report
The increased share of the top four providers has been fueled, in part, through several major acquisitions that, most recently, put Leap Wireless in AT&T's hands and brought MetroPCS into the T-Mobile fold. The net result is that this year's FCC report references only a single "multi-regional" service provider – U.S. Cellular.
Some other factors also may be contributing to the shrinking tier two and three wireless market, say smaller network operators, who argue that it is becoming increasingly difficult to compete with the larger carriers who offer nationwide roaming and who can obtain the latest devices sooner than the smaller carriers can.
According to the FCC, 99.6% of the U.S. population can get LTE from at least one service provider, including 97.8% that can get service from two or more and 91.5% who can get service from three or more providers. Those numbers drop off when LTE coverage is measured by road miles or square miles, however.
Just over 90% (90.7%) of U.S. road miles have LTE coverage from at least one provider, including 75.6% that have coverage from two or more and 51.7% that have coverage from three or more providers. When coverage is measured in square miles, coverage from at least one provider is only 67.7%, while coverage by at least two or three providers drops to 48.8% and 27.1%, respectively.