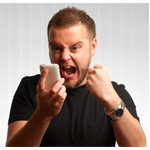 The FCC has approved a Declaratory Ruling affirming that voice service providers may provide default robocall blocking based on reasonable call analytics. Providers can do so provided they inform customers and enable them to opt out of the blocking.
The ability to offer this blocking as a default makes it more likely that subscribers will be protected than if the same capability was offered as an opt-in service, an FCC press release says. The ruling also clarifies that providers may offer customers the option to block calls from any number that does not appear on the customer's contact list.
The declaratory ruling initially was circulated last month. At that time, FCC Chairman Ajit Pai said in a press release that the public interest would be served if it was approved. "By making it clear that such call blocking is allowed, the FCC will give voice service providers the legal certainty they need to block unwanted calls from the outset so that consumers never have to get them. And, if this decision is adopted, I strongly encourage carriers to begin providing these services by default—for free—to their current and future customers."
The FCC also adopted a Notice of Proposed Rulemaking that would require voice service providers to implement the SHAKEN/STIR caller ID authentication framework if the major voice providers haven't already done so by the end of the year. The NPRM is also seeking comment on whether a safe harbor should be created for providers that block calls that are spoofed so that caller ID cannot be authenticated and for providers that block calls that are "unsigned."
STIR stands for "Secure Telephony Identity Revisited." It was developed by the Internet Engineering Task Force (IETF). SHAKEN stands for "Signature-based Handling of Asserted information using toKENs and was developed by the SIP Forum and the Alliance for Telecom Industry Solutions (ATIS). SHAKEN enables operators to implement the STIR standard.
In March, AT&T and Comcast said that they exchanged calls verified with SHAKEN/STIR.