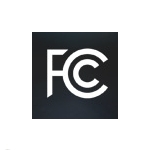 The number of fixed and mobile U.S. broadband connections with downstream speeds of at least 10 Mbps increased 118% between June 2012 and June 2013 to reach 103 million, according to FCC data released Friday.  The data is contained in the FCC's latest "Internet Access Services" report, which is based on information collected from broadband providers.
Mobile U.S. Broadband Connections
Mobile broadband saw a particularly steep increase in the number of users connecting at higher data rates. More than 52 million mobile Internet users connected at speeds above 6 Mbps downstream and 1.5 Mbps upstream as of June 2013, up from 18.7 million in June 2012 – an increase of 279%.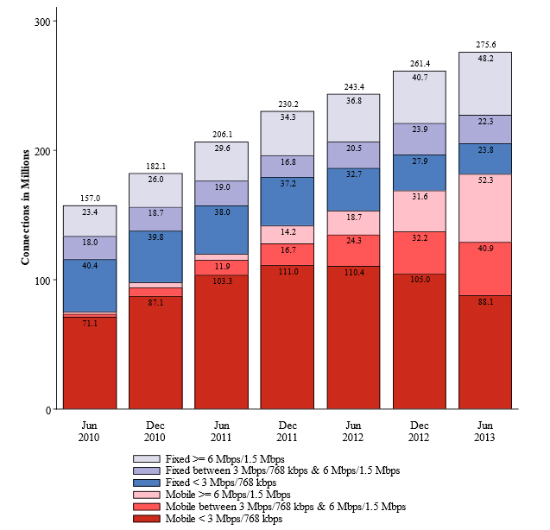 The steep jump undoubtedly was driven, in part, by broader availability of higher speed service, coupled with increased use of bandwidth-intensive streaming video. Fixed broadband service providers increasingly are looking to broadband speed upgrades for revenue growth, while mobile service providers continue to duke it out over who has the fastest service.
Other notable broadband subscribership information as of June 2013:
There were 54 residential fixed-location connections per 100 households with speeds of at least 3 Mbps downstream and 768 kbps upstream – up from 50 out of 100 as of December 2012.
70.3% of fixed broadband users subscribe to service at rates above 6 Mbps downstream, while 15% get service at rates between 3 Mbps and 6 Mbps and 14.6% get service at rates below 3 Mbps downstream.
46% of mobile connections were slower than 3 Mbps downstream, while 18% were between 3 Mbps and 6 Mbps and 36% were at 6 Mbps or above.
Eight percent of U.S. counties (267 out of 3,234) saw 80% or more of households subscribing to fixed Internet service at speeds above 200 kbps in at least one direction. And approximately half (49.8%) of counties had at least 60% of households with Internet service at speeds of 200 kbps. In 10.5% of U.S. counties, however, 40% of households or less had Internet service at the target rate.